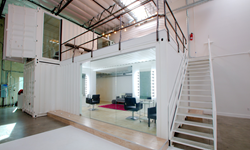 "Stepping into the studio is entering a space that is dedicated to art and creativity. I see a spark in all creatives when they come through the door; it is a place to inspire." - Justin Lheureux, owner
Vista, CA (PRWEB) June 06, 2017
Level 3 Construction, Inc. is pleased to announce the successful completion of our latest project Stage Two Nine Photo Studio. A trusted name in the region's hospitality renovation and construction, Level 3 has currently been focused on T.I.'s, multifamily and restaurant projects in the San Diego market.
Stage Two Nine is a photo studio space that will offer half and full day rentals to clients from different industries. The space promises to be ideally suited for shooting fashion, still life, celebrity, catalogs, videos, or for interviews, castings, and events.
One of the most noteworthy structural aspects of this project is the use of shipping containers. This is one of the emerging trends in ecologically-conscious design, and Level 3 has made the optimum utilization of shipping containers in this project. Shipping containers were used in this project to create rooms and different levels in an open industrial space, and were put into place by forklifts.
Some other important aspects of this project from a construction point-of-view include a 3,000 Sqft. studio space with 26' high ceilings, a 12' wide by 15' tall roll up garage door, temperature control system, lounge, wardrobe area, hair salon and a 32' wide Cyclorama.
Highlighting the project's top notch craftsmanship, the owner of Stage Two Nine Photo Studio Justin Lheureux mentioned, "Stepping into the studio is entering a space that is dedicated to art and creativity. I see a spark in all creatives when they come through the door; it is a place to inspire."
To find out more about Level 3 Construction, Inc. and their state-of-the-art projects, please visit http://www.level3construction.com/
About Level 3 Construction: Founded in 2006 by President and CEO Ian Mahon, Level 3 Construction, located in Carlsbad, California, is known for being a leader in hospitality renovation and construction with a growing presence in multifamily, restaurants, office and T.I.'s. Our project experience ranges from small interior renovations and tenant improvements to multi-million dollar ground up hotel and restaurant construction and renovations. Level 3 collaborates with developers, owners, architects and property owners to implement the most efficient and cost-effective solutions that will reinvigorate a property. Level 3 Construction continues to grow its portfolio of work through quality performance and on-time completion of projects.