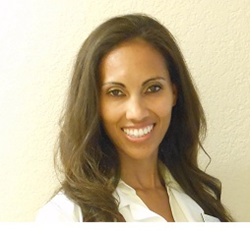 I cannot think of a better statement to describe Lisa other than 'gracefully driven.'
ORANGE, Calif. (PRWEB) June 06, 2017
Southern California medical group Allied Anesthesia today announced St. Mary Medical Center, Apple Valley, Calif., has named Allied Anesthesiologist Dr. Lisa Wilson the recipient of this year's Values in Action Award for Excellence. The award is the highest honor the medical center's administration bestows on its physicians. Dr. Wilson received the award at a ceremony in the Annex Courtyard at St. Mary Medical Center, Apple Valley, Wednesday, May 17.
St. Mary Medical Center Director of Peri-Operative Services Gordon Reid said, "I cannot think of a better statement to describe Lisa other than 'gracefully driven.' She takes her role as Anesthesia Department Chief as more than just a title. She has taken on the responsibility of promoting, educating and encouraging best practice care. She pushes for perfection, but she does so with the utmost grace and compassion."
St. Mary Medical Center CEO Alan Garrett said St. Mary's Vice President of Medical Affairs nominated Dr. Wilson, but a Values in Action review team comprising prior awardees and executive leadership selected the awardee from among all the nominees.
About Values in Action
Values in Action is a set of four awards the St. Mary Medical Center presents to staff members annually. According to the administration, the four awards are presented to individuals who demonstrate commitment in representing the core values of dignity, service, justice and excellence.
Garrett said, "Our values are the guiding principles for all we do, shaping our interactions with those whom we are privileged to serve. These are the values that guide our healing ministry and help us fulfill our mission: to improve the health and quality of life of people in the communities we serve. They form the heart of our health care ministry."
Dr. Wilson is being honored for the Value of Excellence. St. Mary's Vice President of Mission Integration Judy Wagner said the Values in Action Award for Excellence is given to a recipient who demonstrates the following qualities:

Responds to changing organizational needs by learning new skills and behaviors and by improving performance, processes and service
Encourages new ideas, seeks to discover and share best practices and creates an environment of continuous learning
Establishes clear goals and plans, takes responsibility for individual and team actions and expects accountability for performance
Dr. Wilson said, "For one department to excel, it must remember that 'iron sharpens iron!' Each of us must look not only to the interests of our own department, but also to the interests of others, as it says in Philippians 2:4."
Allied Anesthesia team leader Dr. Perry Chu said, "Dr. Wilson is an excellent and talented physician who gives her all to the practice of anesthesiology. I'm not surprised in the least that she's earned this honor. I speak on behalf of the entire Allied Anesthesia group when I offer sincerest congratulations to Dr. Wilson, and when I express extreme gratitude that this fine doctor is out there representing our team."
About Allied Anesthesia: With over 100 highly qualified physician anesthesiologists on staff, Allied Anesthesia provides adult and pediatric anesthesia services to St. Joseph Hospital of Orange, CHOC Children's Hospital, St. Jude Medical Center in Fullerton, Calif., San Antonio Community Hospital in Upland, St. Mary Medical Center in Apple Valley and many other Southern California health care facilities. In 2014, Allied Anesthesia joined with Fullerton Anesthesia Associates and Upland Anesthesia Medical Group to consolidate best practices in more than six hospitals and more than a dozen ambulatory surgery centers. The expanded medical practice is dedicated to offering the highest comprehensive quality of care and the most cost-effective procedures in all facilities they serve. All Allied physician anesthesiologists are board certified in anesthesiology and staff and manage the most efficient operating rooms in Southern California. Allied is a member of the California Society of Anesthesiologists, the American Society of Anesthesiologists and the Anesthesia Quality Institute.
For more information, visit: http://www.alliedanesthesia.com.