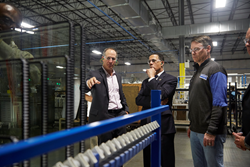 Lanham, Maryland (PRWEB) June 06, 2017
Last week, United States Congressman Anthony G. Brown, who represents Maryland's Fourth Congressional District, received a private factory tour of Thompson Creek Window Company's 117,000-square-foot building in Upper Marlboro, MD. In an effort to strengthen Maryland's economy and provide opportunities for residents within the Fourth District, Congressman Brown asked to host a roundtable discussion in the Thompson Creek Window Company factory with other local manufacturers. During the roundtable discussion, companies discussed their business successes and challenges in today's economy along with how Congressman Brown could get involved to assist with specific initiatives. In addition, Congressman Brown also discussed the 21st Century Investment Act of 2017, a bill he will be introducing in Congress this session to leverage existing tax credits to spur innovation, increase productivity and create good-paying American jobs.
Congressman Brown is the most recent in a long list of distinguished political leaders who have honored Thompson Creek Window Company by recognizing their leadership in manufacturing, construction and business. Other notable previous VIPs have reached out to Thompson Creek Window Company in the last couple of years as the resident experts in the home improvement industry to consult to determine how legislation will affect companies and their employees. Some of these notable previous VIPs include President of the United States, Barack Obama (January 2011), Governor of Maryland, Larry Hogan (2015), Maryland President of the Senate, Mike Miller (2015), Prince George's County Executive, Rushern Baker (2011, 2014) and many more.
Thompson Creek Window Company has a growth plan for the next 5-10 years by expanding geographically and by introducing new products and services to the market. The local community has been instrumental to the Company's success to date and will continue to play a pivotal role in the future as well. With the construction of the new factory over one year ago, Thompson Creek plans to create at least 150 new jobs over the next 6 years, many of which will be filled by Prince George's County residents.
About Thompson Creek Window Company
Thompson Creek Window Company is a privately owned and family-operated manufacturer and installer of energy-efficient home improvement replacement products. Founded in 1980, Thompson Creek Window Company began as a manufacturer of maintenance-free, energy-efficient vinyl windows. Since that time, Thompson Creek Window Company has evolved into one of the leading specialty home improvement contracting companies in the nation. The company's product mix includes replacement windows and doors, vinyl siding, roofing and a clog-free gutter system. Thompson Creek Window Company is headquartered in Lanham, Maryland and recently moved into a 117,000-square-foot building in Upper Marlboro to house its new manufacturing and warehousing operations. Thompson Creek employs over 400 people in the Washington D.C. and Baltimore, MD region.