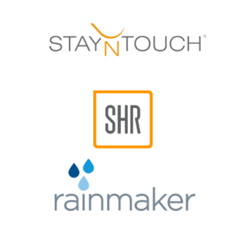 It's no longer sustainable for hotel systems to work in silo, there's got to be a well-balanced and well-connected ecosystem in place
(PRWEB) June 06, 2017
With HITEC quickly approaching, it's time to focus on your hotel's unique areas of opportunity. Join StayNTouch, SHR, and Rainmaker for a special LIVE event on Wed, June 14th at 1pm EDT/10am PDT, dedicated to de-mystifying and optimizing the PMS, CRS, and Revenue Optimization (RO) relationship to your best advantage. Click here to register for the "Get the Balance Right: Mastering the PMS/CRS/RO Connection in a Changing Economy" webinar
The "Get the Balance Right: Mastering the PMS/CRS/RO Connection in a Changing Economy" webinar is hosted by executives from StayNTouch, SHR, and Rainmaker. In the webinar, hoteliers will learn:
How to Position the PMS as a hub to maximize connectivity of your technology solutions
How to Interface the CRS with the PMS/RO to maximize your distribution
Optimizing the best revenue strategy to streamline pricing, enhance guest acquisition, and boost your bottom line
"So much of what makes a successful hotel operations today is ensuring that your systems are well integrated," said Jos Schaap, Founder and CEO of StayNTouch. "It's no longer sustainable for hotel systems to work in silo, there's got to be a well-balanced and well-connected ecosystem in place. I'm excited to share my insight with today's hoteliers alongside our partners at SHR and Rainmaker for what I'm sure will be a very informative webinar."
"At SHR, we hear from our clients a genuine desire for best practices in system integration," said Estella Hale, VP of Product for SHR. "With HITEC just around the corner, this webinar is coming at the perfect time to help clear up some of the confusion about what great distribution strategy looks like for today's hoteliers, and how to go about making it happen."
"For many of Rainmaker's clients, systems integration is an operational headache they experience often, and one of our key priorities is creating integrations that work well," said Ellis Connolly, vice president of hospitality sales at The Rainmaker Group. "This is an important topic to hoteliers, and one that is not always the first to be covered. We're excited to be a part of this event to help hoteliers get a better grasp on the relationship and connection between these systems."
About StayNTouch
StayNTouch is a "Software as a Service" hotel property management systems (PMS) company focused on developing solutions that help hotels raise service levels, drive revenues, reduce costs, and ultimately change the way hotels can captivate their guests. Developed with mobility in mind, the pioneering platform enables hotels to create long lasting relationships with their guests by delivering personalized service levels that today's guests require. StayNTouch operates on tablets and smartphones, empowering hotel employees to go above and beyond in exceeding guest expectations at every touch point. Powering over 75,000 rooms globally, our game-changing solution frees hotels from the constraints of legacy or premise systems, dramatically streamlines operations, increases margins, and revolutionizes how front-line staff connect with guests. StayNTouch is a trusted partner to many of the most forward thinking hotels, resorts, casinos and chains in the industry, including Yotel, Zoku Amsterdam, Valencia Hotels, The Freehand Hotels, Modus Hotels and the Fontainebleau Miami Beach. For more information, visit http://www.stayntouch.com.
About SHR
SHR is a leading provider of advanced tools and services that help hotels execute their best distribution strategy while delighting guests and optimizing profitability. The technical maturity of SHR—having built not one but two Central Reservations Systems (CRS)—is second to none. In addition to serving thousands of properties around the globe with Windsurfer® CRS as well as the Internet Booking Engine, TopSail™, the company also provides Revenue Management for Hire to brands, chains, and management companies. SHR brings hoteliers the best in nimble technology, intelligently supported by tested industry experts—keeping hotels competitive. For more information, please visit http://www.shr.global.
SHR is the trade name for Sceptre Hospitality Resources, LLC, a Delaware Limited Liability Company.
About Rainmaker
The Rainmaker Group is the premier provider of revenue and profit optimization solutions to the hospitality and gaming industry. Since its inception in 1998, the company has focused on delivering the highest revenue returns possible for its clients, through the development and cultivation of a proprietary suite of products and consulting services. All Rainmaker solutions are designed to streamline operational efficiencies, enhance revenue optimization processes, improve lead performance and generate greater demand. Recognized as one of the top privately held companies in the United States, Rainmaker has been named to Inc. 5000's Fastest Growing Privately Held Companies for the last six consecutive years, and was named to the Atlanta Business Chronicle's List of the 100 Fastest Growing Companies in Atlanta. With corporate headquarters in Alpharetta (Atlanta), Georgia, Rainmaker also maintains offices in Las Vegas and Singapore. To learn more about Rainmaker and its suite of profit- and demand-optimization solutions, please visit http://www.LetItRain.com, and follow Rainmaker on Facebook, LinkedIn and Twitter.
CONTACTS:
StayNTouch
Frewoini Golla
Marketing Manager
Phone: 301-799-3280
Email: frewoini(at)stayntouch.com
http://www.stayntouch.com
SHR
Jason Emanis
VP of Marketing
Phone: 713-333-9944 ext. 124
Email: info(at)shr.global
http://www.shr.global
Rainmaker
Melissa Andrews
Vice President Business Development
Phone: 407-342-7829
Email: mandrews(at)letitrain.com
http://www.letitrain.com