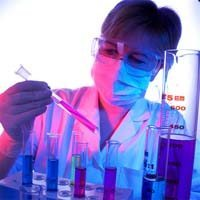 Calretinin and mesothelin are promising tools to improve and supplement the diagnosis of malignant mesothelioma.
(PRWEB) June 07, 2017
Doctors testing a new kind of diagnostic assay for pleural mesothelioma say its results are comparable to the more established mesothelin-based test and might even make it more powerful. Surviving Mesothelioma has more on the newly-published study. Click here to read the details.
Research teams in Germany and Australia developed the test for calretinin, a calcium signaling protein that is overproduced by some types of cancer, including mesothelioma.
"The assay [blood test] is robust and shows a performance that is comparable to that of mesothelin," writes lead author Georg Johnen, one of the developers of the new blood test. "Molecular markers like calretinin and mesothelin are promising tools to improve and supplement the diagnosis of malignant mesothelioma."
According to the report in BMC Cancer, tests on more than 200 mesothelioma patients suggested that calretinin was not only as accurate as mesothelin at detecting malignant mesothelioma, but it also helped make mesothelin tests more accurate when used in combination.
"We know that earlier detection is the key to maximizing survival in most cancers and mesothelioma is no exception," says Alex Strauss, Surviving Mesothelioma's Managing Editor. "In the absence of a mesothelioma screening tool, an early diagnostic tool may be the best hope for improving mesothelioma outcomes for thousands of patients."
To read the details of the new calretinin-based blood test study, see New Blood Test Could Mean Earlier Mesothelioma Diagnosis, now available on the Surviving Mesothelioma website.
Johnen, G, et al, "Calretinin as a blood-based biomarker for mesothelioma", May 30, 2017, BMC Cancer, https://bmccancer.biomedcentral.com/articles/10.1186/s12885-017-3375-5
For more than a decade, Surviving Mesothelioma has brought readers the most important and ground-breaking news on the causes, diagnosis and treatment of mesothelioma. All Surviving Mesothelioma news is gathered and reported directly from the peer-reviewed medical literature. Written for patients and their loved ones, Surviving Mesothelioma news helps families make more informed decisions.