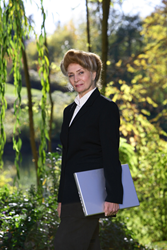 Grants Pass, OR (PRWEB) June 06, 2017
Date aired: May 22, 2017
Guests: Dame Dr. Effie Chow, Qigong Grandmaster, Registered Public Health & Psychiatric Nurse, California and nationally-licensed Acupuncturist http://www.eastwestqi.com and Rose Hong, Executive Director of Global Dragon TV http://www.GlobalDragonTV.com
International water advocate Sharon Kleyne, founder of the research center at Bio Logic Aqua Research® Water Life Science® was surprised, as a practitioner of Qiqong, that no international museum existed to celebrate and commemorate the centuries of health and well being promoted by this ancient Chinese practice. Happily, that oversight was recently corrected and Kleyne welcomed Dame Doctor Effie Chow and Global Dragon TV director Rose Hong on the air to talk about the groundbreaking event and health in China.
Returning to Kleyne's nationally syndicated radio program, The Sharon Kleyne Hour Power of Water, Global Climate Change and Your Health on VoiceAmerica sponsored by Nature's Tears® EyeMist®, Dr. Chow proudly described how she was one of a dozen international experts invited to exhibit and present at the opening. China's Global Dragon Television and news director Rose Hong and crew also attended the opening and produced a film. Hong joined Dr. Chow on the air to talk about the unforgettable event.
Responding to Kleyne's question, Dr. Chow described how Qigong is a practice of mindful, measured breath and movement. Dr. Chow, who has taught and treated an estimated 450,000 people worldwide in her forty-plus years of practice, explained that Qi means breath or life-force and gong means cultivating health with the breath. "No breath, no oxygen, you are dead," said Chow. "It's all about the balance of the Qi," Chow continued. "It is arriving at health through your breath. However, without water moisture in the air there is no breath!"
"Human life depends on this water breath," Kleyne agreed, whose research center is poised to launch Nature's Tears® EyeMist® in China on a grand scale. In China, this one-of-a-kind product will provide instant relief for millions who suffer from dry eye disease and blindness by supplementing the eye's tear film, which is naturally 99% water, with a patented micron-size mist of Trade Secret tissue culture grade pure water applied by a personal, hand-held portable humidifier.
"Water is key to all natural health and medicine," Director Hong added. "In the future," Hong said, "water will be more valuable than gold." Hong, who described meeting Dr. Chow as a translator for a PBS documentary on Chow's work, looks forward with enthusiasm to the opening of five additional international Qigong museums. "Given that 40% of China's drinking water is polluted," Hong said, "it's important to call attention to holistic health alternatives and to the importance of clean water."
"The first thing I ask my students and clients/patients," Chow said, "is how much water do you drink? Water is absolutely the key to good health; drinking too little water will kick-start illness and disease. So, drink those 8 to 10 glasses of water a day and work a practice like Qigong with positive attitude."
For centuries, the practice of Qigong has been the foundation for holistic health science in China. Once ignored in much of the western world, Qigong has gained in popularity in western countries since the 1970s. In eastern lands, its popularity has seldom flagged from year to year. But this year, especially, brought the venerable practice even more attention as the first Qiqong international museum in the world for Chinese Medical Qigong opened in China to pay tribute to famed Master Wang.