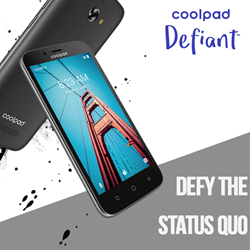 Coolpad seeks to change the smartphone industry by providing outstanding products at extremely competitive prices.
San Diego, CA (PRWEB) June 07, 2017
Coolpad Technologies, Inc (HKG: 2369) is announcing the launch of its third smartphone nationwide with T-Mobile, marking a significant milestone for Coolpad U.S. as it adds yet another great entry-level product to T-Mobile stores. Coolpad has previously launched two other devices in the same tier at T-Mobile and is excited to continue to grow their portfolio of offerings.
The new device, Coolpad Defiant, will be launching nationwide at participating T-Mobile stores on June 16. Following the T-Mobile launch, the Coolpad Defiant will be available nationwide at participating MetroPCS stores this summer.
Replacing the Coolpad Catalyst, the Coolpad Defiant is affordable and optimized for customers' basic smartphone needs with a modern and sophisticated look. Packed with enhanced features, such as video calling and RCS, Defiant is a step up from Catalyst, which shined in the market. With a larger battery, faster processor and the latest in Android technology, Coolpad Defiant is expected to continue to exceed customer expectations this year.
The Coolpad Defiant features a 5" FWVGA display that offers a large screen with clear, vivid colors. It packs a large 2,450 mAh battery, a fast 1.4 GHz quad-core processor and the latest Android Nougat OS. Defiant allows you to capture and share great pictures with its 5MP rear-facing and 2MP front-facing cameras and offers plenty of space for storage with 8GB of internal memory and 32GB of expandable memory on board. And with built-in video calling and Rich Communication Suite (RCS), users can easily stay connected with their family and friends.
"We are excited to launch yet another great product at T-Mobile and MetroPCS while continuing to grow our portfolio with innovative and affordable products," said Chris Saunders, SVP of Coolpad Technologies. Coolpad seeks to change the smartphone industry by providing outstanding products at extremely competitive prices. The Coolpad Defiant reflects this strategy with the slogan, "Defy the status quo."
About Coolpad:
Coolpad technologies is one of the top smartphone manufacturers in China with strategic partnerships in numerous other countries around the world. Coolpad has been continuously operating globally since 1993 and expanded into the U.S. market in 2012 with strong product quality and clear value proposition. Coolpad is a forward-looking company that embraces market trends and customer's needs and is dedicated to bringing technical innovations to the market that benefit the lives of consumers.
Be Simple, Be Good. Simply Good.
For more information, please visit: http://www.coolpad.us