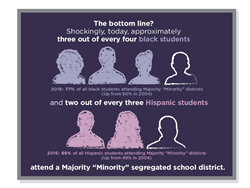 The number of students attending majority "minority" districts has more than doubled.
Syosset, NY (PRWEB) June 07, 2017
School segregation on Long Island is on the rise, according to civil rights organization ERASE Racism. Today the organization released a detailed infographic and report that analyzes demographic change between the school years 2003-2004 and 2015-2016.
The report states that currently more black and Hispanic students attend segregated public schools than 12 years ago. Even though Long Island students are more diverse overall, there has been a significant increase in the proportion of students attending racially segregated schools.
According to the analysis, today approximately three out of every four black students and two out of every three Hispanic students attend a majority-minority segregated school district in which non-whites make up over 50% of the student population.
Visit ERASE Racism's website to view the infographic and read the report.
About ERASE Racism: ERASE Racism is a regional, nonprofit civil rights organization, founded in 2001 and based on Long Island, New York. It leads public policy advocacy campaigns and related initiatives to promote racial equity in areas, such as public school education, housing, and community development. It engages in a variety of research, education and consulting activities to address institutional and structural racism.