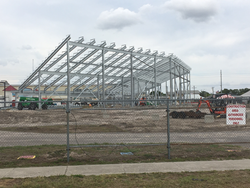 The construction of our new soundstage seating area is a great step towards paving the way for the Florida Strawberry Festival's future
Plant City, FL (PRWEB) June 06, 2017
Organizers of the annual Florida Strawberry Festival, an 11-day event celebrating the strawberry harvest of Eastern Hillsborough County including live entertainment, local food vendors, and exhibits, have initiated construction of a new grandstand at the venue to be open to spectators for the 2018 event. Planners partnered with hometown bleacher manufacturer, GT Grandstands, a PlayCore Company, to design and construct the new seating structure for improved spectator accommodations and increased capacity for attendees.
GT Grandstands, a leading manufacturer of aluminum seating in the US, worked with festival planners to design a grandstand that not only provided more seats for growing crowds but also elevated the festival's appeal to future acts. "The construction of our new soundstage seating area is a great step towards paving the way for the Florida Strawberry Festival's future," said Florida Strawberry Festival Board Chairman Sandee Sytsma. "We want the entire project to be state-of-the-art for our visitors, and we knew GT Grandstands was a company that would give us the highest quality product."
Construction was officially started in early May and is slated to continue throughout the summer. The new galvanized steel grandstand features i-beam construction and a wraparound design. It includes seating with backrests for all 8,500 spaces. In addition, unique perforated materials and powder coated risers will improve acoustics for live acts. "These new grandstands will not only bring the concert facility up to the current industry standards and regulations, but will also give concert and event goers a more comfortable seat with significantly better views as well as improved acoustics," explains Greg Buckner, Vice President and General Manager of the PlayCore Seating Division.
He adds, "We are so excited and proud to be working with our neighbors to provide a community gathering place that will be a showpiece for locals and visitors alike for years to come." The project will be completed before The Florida Strawberry Festival's opening day on March 1, 2018.
About the Florida Strawberry Festival:
The Florida Strawberry Festival is an 11-day community event celebrating the strawberry harvest of Eastern Hillsborough County. Each year, over 500,000 visitors enjoy the Festival's headline entertainment, youth livestock shows, exhibits of commerce and, of course, its world-famous strawberry shortcake. The 83rd Annual Florida Strawberry Festival will be held March 1 through March 11, 2018 in Plant City, Fla. For more information, visit http://www.flstrawberryfestival.com, Facebook, Instagram, and Twitter (#berryfest18).
About GT Grandstands:
GT Grandstands designs and manufactures premium-quality grandstands, bleachers and a range of spectator seating options. Selection includes permanent grandstands, press boxes, existing structure renovations, standard portable bleachers and team benches. GT Grandstands offers a variety of standard bleacher styles with optional ADA accessibility features as well as custom design options. For more information, visit http://www.gtgrandstands.com or call 866-550-5511 for a consultation. GT Grandstands is a PlayCore Company. More information is available at http://www.PlayCore.com.
#########
For More Information Contact:
Georgia W. Tippens
Marketing Manager – PlayCore Seating & Surfacing
423.648.5570
gtippens(at)playcore(dot)com