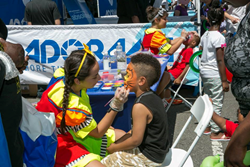 Join Adorama for carnival games, meet and greets with superstar football players, complimentary drone and aerial photography workshops and more!
New York, NY (PRWEB) June 06, 2017
Adorama, one of the world's largest photography, video, audio, imaging and electronics retailers, is continuing its annual tradition of taking over 18th Street (between 5th and 6th Avenues) for the 7th annual Adorama Sunday Family Funday Street Fair on June 11th from 10 AM to 4 PM. Free for all to attend, the Street Fair is the perfect summer kickoff for families, sports fans and tech gurus alike. Join Adorama for carnival games, meet and greets with superstar football players like New York Giants' Super Bowl Champions Rodney Hampton, OJ Anderson, Shaun O'Hara, and David Diehl as well as complimentary drone and aerial photography workshops and more. Attendees 18 and up will even have the chance to win a Samsung 55" Class 4K SUHD Smart LED TV simply by registering online. Don't miss a packed day of fun in Manhattan!
Check out the footage from last year's fun-filled fair!
Exclusive Meet and Greet Opportunity with Super Bowl Champs
What better way to commemorate the day than a photo opportunity with not one, but four New York Giants Super Bowl champions.
Join the following players on June 11th for a day of exciting workshops, entertainment and more!

David Diehl, NY Giants (2003-2013), 2X Super Bowl Champion (XLII & XLVI); 12:00 PM – 2:00 PM
OJ Anderson, NY Giants (1986-1992), 2X Super Bowl Champion (XXI & XXV); 12:00 PM – 1:30 PM
Shaun O'Hara, NY Giants (2004-2010), 2007 World Champion; 12:00 PM – 2:00 PM
Rodney Hampton, NY Giants (1990-1997), member of the 1991 Super Bowl XXV Champions; 12:30 PM – 2:00 PM
Shop Top Industry Vendors for the Latest Photo, Video, Audio and Electronics Gear
Visit vendor tables up and down the block to sample the latest offerings in photo, video, audio, electronics and more at the Adorama Street Fair. Keep eyes and ears open – attendees will also be privy to news on Adorama deals and discounts on products available that day at the Adorama superstore, located within the fair block at 42 W. 18th Street.
Street fair vendors will include AdoramaPix, Adorama Trade, Apple, Asus, Bose, Canon, Dell, Ezviz, Epson, Fender, Fuji, Intel, LG, Monster, Mackie, Nikon, Olympus, Panasonic, Porsche Design, PreSonus, Pelican, Polk, Roland, Ricoh, Rode, Samson, Samsung, Shure, SanDisk, Sennheiser, Steiner, Sony, Tamron, Tascam, Tech Data, Tiffen, Vitec, Wacom and WD.
Enter to Win a Samsung 55" Class 4K SUHD Smart LED TV
Street Fair attendees aged 18 and older are invited to enter Adorama's Samsung 55" Smart LED TV raffle giveaway. The Samsung 55" Smart LED TV features revolutionary Quantum Dot nano-crystal technology, sharp high dynamic range, 4K ultra high definition and smart features for the optimal viewing experience. For more contest details, please visit the Sunday Family Funday raffle giveaway page.
Learn How to Fly Drones, Aerial Photography Tips with Dirk Dallas
Join designer, educator and photographer, Dirk Dallas as he walks attendees through the ins and outs of flying drones and the nuances of aerial photography. Dirk has been flying various electric helicopters and RC airplanes for over 10 years. After getting his first drone, he became obsessed with aerial photography and video and started http://www.fromwhereidrone.com to provide a helpful resource for those interested in getting started with aerial photography / cinematography. His site is also a space to find amazing drone imagery, learn from the leaders in the drone world and learn all about drones, from buying guides to FAA regulations and more! Watch "From Where I Drone" with Dirk Dallas on AdoramaTV.
Drone and Aerial Education Show Times:

11:00 AM – 12:00 PM
12:00 PM – 1:00 PM
1:00 PM – 2:00 PM
Help in the Fight Against Cystic Fibrosis with Boomer Esiason
Looking to give back to the NYC community? The Adorama Sunday Family Funday Street Fair continues supporting the Boomer Esiason Foundation for Cystic Fibrosis. Stop by the Adorama booth located in front of the Adorama store any time between 10 AM and 4 PM to make a donation to the Boomer Esiason Foundation.
ADORAMA: More Than a Camera Store
Adorama is more than a camera store – it's one of the world's largest photography, video, audio and computer retailers. Serving customers for more than 40 years, Adorama has grown from its flagship NYC store to include the leading online destination for imaging and consumer electronics. Adorama's vast product offerings encompass home entertainment, mobile computing, and professional video and audio, while its services include an in-house photo lab, AdoramaPix; resources and gear for photographers, filmmakers, production studios, broadcasting and post houses, and recording artists through Adorama Pro; pro equipment rental at Adorama Rental Company; and the award-winning Adorama Learning Center, which offers free creative education in online channels such as the popular Adorama TV.
Adorama is listed as one of the top five electronics retailers by Consumer Reports, "Best of the Web" by Forbes.com, Internet Retailers Top 100, and is the official Electronics Retailer of the NY Giants.
Visit ADORAMA at http://www.adorama.com.