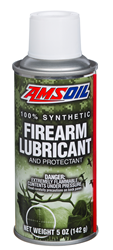 (PRWEB) June 06, 2017
AMSOIL has announced a new packaging option for its firearm lubricants. AMSOIL Synthetic Firearm Lubricant and Protectant, formerly available only in a dripper bottle, is now available in a 5-ounce aerosol spray can to deliver added convenience while providing the same superior performance.
AMSOIL Synthetic Firearm Lubricant and Protectant helps reduce friction to promote extended firearm life and prevent blockage, jams and wear. It provides excellent protection and performance in both hot and cold climates. It is specially formulated for firearms, offering dependability when you need it most. It is safe to use on all metals, woods, composites, rubbers and other materials commonly found in firearms.
About the Company: AMSOIL has been the recognized leader in synthetic lubrication since 1972. For more information about AMSOIL products for your firearms contact your nearest AMSOIL distributor, or call AMSOIL at (715) 392-7101 or 1-800-777-8491. AMSOIL INC., 925 Tower Avenue, Superior, WI 54880, or go to http://www.amsoil.com.
News Contact:
Ed Newman
Advertising Manager
E-MAIL: enewman(at)amsoil.com
PHONE: 715-392-7101