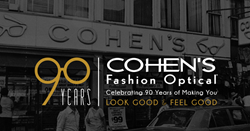 New York, NY (PRWEB) June 07, 2017
A fixture of Manhattan neighborhoods for 90 years, Cohen's Fashion Optical is celebrating its legacy with empowerment initiatives that give back to the community. With the long-standing credibility of a family name and the principles of its founder, Jack Cohen—whose pushcart frame business on the Lower East Side advanced into the first fashion eyewear retail location in New York—Cohen's is expressing gratitude to the city that has supported its philosophy for nearly a century.
Building upon its roots of providing sight with style, Cohen's is committed to giving back to customers, and empowering them to do the same for their communities and beyond, in an elevated way with initiatives that will endure for years to come.
Empowering Our Customers
Cohen's is not just selling eyewear; it is helping drive people's lives in a positive way, and in turn empowering them to pay it forward. Whether it's providing free eyeglasses to people who need them in communities near and far, giving free eye exams for kids, or donating to hospitals in neighborhoods, social responsibility is a part of the company culture.
In 2017, Cohen's is encouraging customers to participate in vision for the greater good. This year, customers will be able to touch people's lives just by purchasing eyewear and receiving an eye exam, thanks to recent partnerships with:

With these programs, hundreds of people in local communities and beyond will receive free glasses to help them live full, productive lives. Just by being a Cohen's customer, New Yorkers are sparking a chain of giving back. Whether it's schoolchildren in your neighborhood, a veteran in Harlem, or a weaver in Guatemala, clear vision can be life-changing—helping people rejoin the workforce or continue their education.
As far back as 1927, Jack Cohen envisioned an environment where he would help people see better and look better, too.
"We are dedicated to giving back and making a difference worldwide," said Cohen's Fashion Optical President Bob Cohen, son of the family run company's founder. "New Yorks neighborhoods have supported us for nine decades now, and it is important that we preserve our loyal, local customers, while also enabling them to help others. We will always further my father's mission in a way that matters today, to as many people as we can."
Follow Cohen's empowering activities throughout the year @cohensfashionoptical on Instagram and Facebook, and join the conversation with #visionforchange.
###
About Cohen's Fashion Optical
90 Years of Quality Eyecare & Eyewear
Ninety years ago, our founder, Jack Cohen, pioneered a new philosophy in the retail eyewear business. His vision was, everyone who needed prescription eyeglasses wanted to look better, see better, and feel better about themselves. In 1927, Cohen's became the only fashion eyewear retail location to be found in New York. Cohen's Fashion Optical quickly became a New York City retail landmark. Today, with over 130 franchise stores in the US and Puerto Rico, Cohen's is one of the top ten optical retailers in the country and one of the longest operating optical franchise companies in the country.