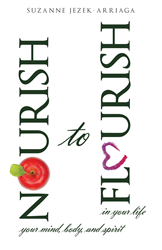 LOS ANGELES (PRWEB) June 26, 2017
Recognizing the need for a well-rounded book focusing on achieving a fulfilling life, author Suzanne Jezek-Arriaga highlights practical steps to living a nourished life by nurturing one's body, mind, and spirit in "Nourish to Flourish." In the book, educator and health coach, Jezek-Arriaga illustrates personal stories and steps to transforming one's life.
"Nourish to Flourish" shares valuable knowledge about leading a joyful life while acknowledging the importance of food and movement, thoughts and vibration, optimism, living in the present moment, and gratitude. Jezek-Arriaga presents inspiring personal anecdotes and in-depth knowledge about what she's identified as the five "Pillars of Happiness" and how to include them in one's daily life.
Jezek-Arriaga said she saw a need for a book offering the all the ingredients to live a meaningful life from the inside out. While writing from her experiences about upgrading her own life, the author introduces healthy actions that readers can add into their daily lives, which will help them to upgrade their lives to pure joy and happiness.
"What you put into your body has a lot to do with how your life unfolds," said Jezek-Arriaga." Your body is your vessel in this life, and without it, you wouldn't be here to experience this world. But, more importantly your thoughts and energy have a profound effect on how your life progresses."
Readers will be compelled by "Nourish to Flourish" as Jezek-Arriaga distinguishes how to work with the Universe to create a life one loves and how to live from a place of love, happiness, and gratitude. People from all backgrounds will be able to connect with her story.
"Nourish to Flourish"
By Suzanne Jezek-Arriaga
ISBN: 978-1-5043-7105-6 (sc)
Available on: Balboa Press, Barnes & Noble and Amazon
About the author
Suzanne Jezek-Arriaga was going through the motions in her life, working a corporate job and fretting over the future, when her beloved dad died after being diagnosed with cancer. This wake-up call encouraged her to immerse herself in studying how the food we eat, the thoughts we think, our outlook on life, and our ability to be present in the moment all work together to shape the course of our lives. Now, Jezek-Arriaga is an abundance mindset mentor for women who are either just starting out or are in mid-life and desperately in search of more meaning, fulfillment, and joy.
###
Review Copies & Interview Requests:
LAVIDGE –
Courtney Coombes
480-998-2600 x 612
ccoombes(at)lavidge(dot)com
General Inquiries:
LAVIDGE – Phoenix
Amanda Eisen
480-998-2600 x 540
aeisen(at)lavidge(dot)com