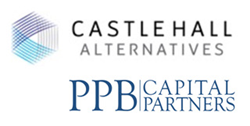 "We are excited to partner with Castle Hall Alternatives. We believe that their award winning and independent due diligence, global reach, and cutting edge technology will enhance the value that PPB provides wealth managers," B. Lake, PPB Capital Partners
(PRWEB) June 08, 2017
A New Alliance Forms…
PPB Capital Partners, a leading innovator in the alternative asset management industry for wealth managers, today announced its new strategic alliance with Castle Hall Alternatives, a leading provider of independent, expert due diligence. Castle Hall Alternatives will provide both operational and investment risk due diligence to PPB's suite of institutional managers. The fund managers on PPB's platform provide wealth managers and their clients with uncorrelated exposure to asset classes such as private equity, venture capital, real estate, direct lending, socially responsible investing, hedge funds and more.
PPB, explained…
PPB Capital Partners designs and builds institutional-quality fund infrastructures and manages the daily fund operations for wealth managers and fund managers. For wealth managers, PPB serves as a comprehensive back office to ensure operational expertise, reduce compliance risks and control costs. For fund managers, PPB provides an efficient process to introduce new high net worth investors to your fund by outsourcing the typical operational challenges that smaller investments can cause.
PPB Capital Partners has surpassed $800M of total capital invested since its inception. PPB has a network of over 400 wealth management groups and has served over 60 RIAs, family offices, trust companies and bank wealth groups nationwide.
We're Excited…
"We are excited to partner with Castle Hall Alternatives. We believe that their award winning and independent due diligence, global reach, and cutting edge technology will enhance the value that PPB provides wealth managers," said Brendan Lake, Founder and CEO of PPB Capital Partners. "PPB shares the same fiduciary principles of the wealth managers we serve. We feel that the combination of PPB's customization, operational expertise, cost efficiency, and now an institutional due diligence partner provides wealth managers and their clients the most comprehensive alternative investment solution."
They're Excited…
"We are delighted to support the exciting growth of PPB's investment platform," said Chris Addy, CEO of Castle Hall. "In particular, wealth managers and their high net worth clients evaluating PPB funds will appreciate the greater independence, objectivity and transparency provided by Castle Hall's DueDiligenceProfessional solution. In house due diligence can create an evident conflict of interest: PPB recognizes that wealth managers and advisors increasingly differentiate products in the marketplace based on the quality and independence of the due diligence process."
Due Diligence…
Castle Hall Alternatives, a member of AIMA, helps global institutional investors, fund of funds, advisors, family offices and endowments identify and manage the business, operational, cyber and investment risks of asset managers. With a team of nearly 50 professionals dedicated exclusively to operational due diligence, Castle Hall deploys one of the industry's largest and most experienced due diligence teams. Castle Hall's core competitive advantage is DueDiligenceProfessional, the firm's proprietary online diligence platform, which has helped clients review diligence across more than 5,000 fund entities. Castle Hall operates from offices in Canada, Switzerland, the United Arab Emirates and Australia.