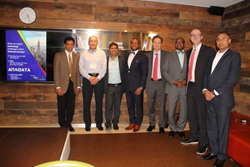 "Today's announcement, with leading marketing company On the Ball, is another solid step in our journey to extend our solutions and services to a much broader range of financial institutions," said Lal Vaghji, Ana-Data CEO
West Palm Beach, FL (PRWEB) June 06, 2017
Steve Nudelberg, Principal Thinker of On the Ball Marketing, is pleased to announce the first curated event for their client, Ana-Data, in New York City.
On May 18, 2017, Ana-Data hosted their first ever thought leadership event at Citco's offices in midtown Manhattan. The engaging panel discussion focused on today's technology challenges for financial companies and how organizations can mitigate their risk(s) and exposure and some of the solutions they are currently evaluating and or have implemented.
"Today's announcement, with leading marketing company On the Ball, is another solid step in our journey to extend our solutions and services to a much broader range of financial institutions," said Lal Vaghji, Ana-Data CEO. "This partnership will prove that we can deliver solid, robust, end-to-end solutions leveraging our CLEAR platform. On the Ball is the perfect partner to help us fully realize new opportunities in the long term. In today's marketplace, more so than ever before, there is a major focus on big data coupled with a high importance placed on protecting this information i.e. cybersecurity. Both present a unique opportunity for Ana-Data to create customized solutions for our clients and we are well poised to add value both efficiently and effectively."
Nkrumah Pierre, moderator and Partner at On the Ball, says, "Ana-Data's thought leadership panel couldn't have come at a better time since, the week prior, a massive cyber attack hit 200,000 computers in more than 150 countries.  Cyber security is top of mind for most executives today and Ana-Data has proven themselves as a leader in the market to provide innovative solutions.  It was great to serve as the moderator and help guide the enlightening discussion with a lively audience of 70+executives. Furthermore, we look forward to working closely with Ana-Data in the future and helping them provide their customized solutions to prospective clients." 
Featured panelists included: Mohamad Hijazi, CTO, Stone Harbor Investment Partners LP, Thomas Biedermann, Vice President (Head of IT) BayernLB New York, Elwin Ford, CEO, Kaxbrel Consulting and Services (Former CTO & SVP, MFA Financial Inc.), Sven Schindler Former CFO LBBW New York, and more.
Ana-Data Consulting was established in 1993 to help buy-side investment firms successfully develop, implement, and support customized solutions for the front, middle, and back office operations. From strategic guidance to hands-on assistance, our consultants provide fresh thinking, practical experience, and business insight led support across the entire application lifecycle. We are a focused application lifecycle service provider. For over two decades, we have helped asset managers, real estate investment trusts (REITs), hedge funds, and global banks innovate, transform, and maintain many different initiatives. Our clients have been working with us for many years, from the idea through the development, implementation, integration, upgrade, and support of their systems and critical processes.
On the Ball has been in business for over twenty-two years. Starting out as a sports marketing company to a traditional marketing agency to a business development resource. Acclaimed for its strategic thinking and sales-focused abilities, On the Ball specializes in all things sales. By investing time and talent in emerging ideas, the agency can specifically help companies grow.
On the Bench, a company of On the Ball, is a team of seasoned, sales professionals across the country including West Palm Beach, Miami, New York, L.A., Detroit, Charlotte, and Atlanta markets that create meetings to the C-Level suite for sales teams.