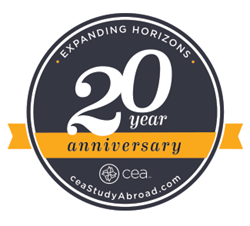 "Providence College's six-year partnership with CEA has been exemplary," Adrian Beaulieu, Dean of International Studies at Providence College, said. "Indeed, they've accomplished more than most program providers over their 20 years."
Phoenix, Arizona (PRWEB) June 15, 2017
CEA™ Study Abroad, the only Phoenix-based study abroad provider, has seen many changes in the field of international education since it first began sending students overseas in April 1997. Out of his childhood home, Brian Boubek began building CEA with one simple philosophy: To provide high-quality international academic programs and services.
With the help of an enthusiastic staff passionate about helping students expand their horizons, CEA has grown to become one of the largest study and intern abroad providers in the U.S., enrolling almost 4,500 students annually in more than 100 academic programs.
Over the years, CEA has expanded its program offerings to more than 20 locations worldwide, founded eight CEA Study Centers, (the newest in London opened this year), earned the Forum on Education Abroad QUIP recognition confirming CEA's alignment to the Standards of Good Practice for Education Abroad, and forged strong partnerships with universities both at home and abroad. Founder and CEO Brian Boubek, himself a study abroad alumnus, remembers beginning CEA in response to a need within the field of education abroad for quality programming and student support.
"I began CEA to give U.S. students the opportunity for a meaningful cross-cultural experience that also meets the highest academic standards," Boubek said "We've worked tirelessly for 20 years to provide students and universities the finest study and intern abroad options. As the demand for global competency grows, CEA will continue to offer experiences abroad that educate, inspire, and empower students."
CEA has also grown in other ways. Internally, CEA has embraced a culture of core values that fosters teamwork and a service-oriented perspective. Externally, it's cultivated a wide range of services, a high standard of academic rigor, and a commitment to the needs of students, families, and universities throughout the study abroad process.
In the last few years, new programming has been launched to help more students study abroad and develop the global competence needed for post-graduate success. Along with increased options for business and communication majors, CEA has designed new programs for students majoring in engineering, environmental science, and global health and health studies, disciplines traditionally more challenging for study abroad experiences. In addition, CEA has expanded its CEA Internships Abroad initiative that offers unique pre-professional opportunities to address the needs of today's student for hands-on experience and professional engagement.
In addition, CEA's robust Custom and Faculty-led Program continues to work with colleges and universities to create tailored learning experiences for their students. In 2016, CEA assisted in the design of 85 custom programs in more than 16 locations that provided unique learning opportunities to more than 1,300 students.
Adrian Beaulieu, Dean of International Studies at Providence College, has worked with CEA since 2011 on a custom program that brings PC students to Rome every year. Beaulieu sees that CEA has evolved into a leading study abroad program provider, one that is serious about adhering to the Standards on Education Abroad and providing intercultural learning for students.
"Providence College's six-year partnership with CEA has been exemplary," Beaulieu said. "The on-site staff is first rate, professional in every way, and committed to students' wellbeing. Indeed, they've accomplished more than most program providers over their 20 years."
With its core values as its guide, CEA anticipates the needs of its students and university partners and looks forward to 20 more years of making life-changing international education experiences a reality for U.S. students.
About CEA
CEA has provided high-quality international academic programs and services for students and universities since 1997. CEA programs expand the boundaries of education and transform the world into a classroom. With destinations in 20 cities across 12 countries, CEA offers a balance of academics and adventure to thousands of students each year. Learn more at http://www.ceastudyabroad.com.
CEA Media Contact
Jessica Hancock
Director of Marketing
Phone: 480-862-0780
Email: [email protected]