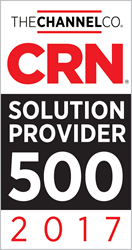 "This recognition is a tribute to the talented team at IDS for their hard work and dedication to the success of our customers."
Chicago, IL (PRWEB) June 06, 2017
IDS, a leading data center technology integrator and cloud services provider announced today that CRN®, a brand of The Channel Company, has named IDS to its 2017 Solution Provider 500 list. The Solution Provider 500 is CRN's annual ranking of the largest technology integrators, solution providers and IT consultants in North America by revenue.
The Solution Provider 500 is CRN's predominant channel partner award list, serving as the industry standard for recognition of the most successful solution provider companies in the channel since 1995. This year, for the first time since 2010, the complete list will be published on CRN.com, making it readily available to vendors seeking out top solution providers to partner with.
As their fifth time on this prestigious list, IDS' ongoing presence on the SP500 illustrates its relevance and continued strength in a constantly changing industry. Since their debut on the original 2011 ranking, IDS has advanced nearly 300 rankings, including 24 spots over the past year. Fueled by a technology-agnostic approach to solving business problems, IDS continues to excel in finding, testing and delivering the most impactful and disruptive technologies to satisfy its customers' most challenging needs.
"IDS is honored to be named to the CRN Solution Provider 500 list for the fifth time," says Justin Mescher, Chief Technology Officer at IDS. "During this time of constant technology disruption, we continue to focus on customer transformation in areas like next-generation Data Center, Cloud, and Security to help our customers create and maintain competitive advantages." He added, "This recognition is a tribute to the talented team at IDS for their hard work and dedication to the success of our customers."
"CRN's Solution Provider 500 list spotlights the North American IT channel partner organizations that have earned the highest revenue over the past year, providing a valuable resource to vendors looking for top solution providers to partner with," said Robert Faletra, CEO of The Channel Company. "The companies on this year's list represent an incredible, combined revenue of over $318 billion, a sum that attests to their success in staying ahead of rapidly changing market demands. We extend our sincerest congratulations to each of these top-performing solution providers and look forward to their future pursuits and successes."
The complete 2017 Solution Provider 500 list will be available online at http://www.crn.com/sp500 and a sample from the list will be featured in the June issue of CRN Magazine.
About IDS
IDS is a data center technology integrator and cloud services provider backed by an award-winning IT consulting practice. IDS works with a select list of industry leading technology partners to deliver custom IT solutions. Primary areas of focus are storage, data protection, disaster recovery, data analytics, virtualization, mobility, networking, servers, security, managed services, and cloud. Headquartered in Chicago, Illinois, IDS has experienced incredible growth since being founded in 2002. IDS has established a reputation of moving IT forward through solutions that provide improved efficiency, flexibility, performance and a competitive advantage. Learn more at http://www.idsforward.com.
About the Channel Company
The Channel Company enables breakthrough IT channel performance with our dominant media, engaging events, expert consulting and education, and innovative marketing services and platforms. As the channel catalyst, we connect and empower technology suppliers, solution providers and end users. Backed by more than 30 years of unequaled channel experience, we draw from our deep knowledge to envision innovative new solutions for ever-evolving challenges in the technology marketplace. http://www.thechannelco.com