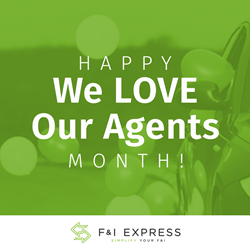 "Agents are a huge part of our business. Without them, we wouldn't be where we are today," said Brian Reed President and CEO of F&I Express.
Grapevine, TX (PRWEB) July 10, 2017
F&I Express declared the month of July to be Love Our Agents Month. This month-long celebration was created to honor what the agents and agencies have done for the company. The F&I Express business structure is built on agent relationships and they are the primary distribution channel to the end user.
Showing appreciation to agents and always thanking them for their business is an ongoing aspect of our corporate culture that is incorporated in F&I Express' business every day. As part of the celebration, F&I Express has a variety of exciting activities planned throughout the month and ongoing as part of their "Thanks for Your Business" culture.
"Agents are a huge part of our business. Without them, we wouldn't be where we are today. We want to take this month to recognize our partnerships with the agencies, but we will continue to appreciate all of their hard work every single day even after July is over," said Brian Reed, President and CEO of F&I Express.
ABOUT F&I EXPRESS
Intersection Technologies Inc. – F&I Express® is the leading technology and solutions provider powering the future of the automotive F&I industry. Our F&I Express eContracting network enables aftermarket providers and agents to increase their dealer clients' CSI ratings by providing a faster and error-free process to eRate, eContract, and eRegister all of their aftermarket products on one platform. With the largest aftermarket provider network in the industry, F&I Express delivers specialized solutions that streamline the aftermarket process for optimized efficiency. Our Express Digital Media solution uses a proprietary Dealer Service Provider interface to provide connectivity to accurately quote and instantly obtain product content from more than 130 product providers. Our Express Recoveries® platform helps auto lenders improve recoveries, cycle times and compliance for aftermarket product cancellations. Our CompliPrice® solution helps ensure that automotive dealerships are compliant with their aftermarket product pricing. For more information about our innovative technologies, please visit http://www.fandiexpress.com or follow us on Twitter @fandiexpress.