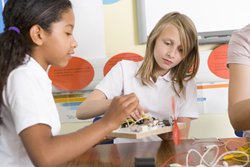 Irvine, CA (PRWEB) June 16, 2017
Concordia University Irvine (CUI) today announced its partnership with Project Scientist to offer a STEM-focused summer academy for girls ages 4-12. Project Scientist Summer Academy is a six-week day camp with a curriculum focused on engaging and empowering girls with a passion, talent and aptitude for science, technology, engineering, and math (STEM). The camp will run weekdays from 9 a.m. to 5 p.m. beginning June 19 through July 28, on the campus of Concordia University Irvine. Concordia Irvine is among three California university campuses—including the University of Southern California and the California Institute of Technology—offering Project Scientist Summer Academy. This is the first year the academy will be offered at Concordia Irvine.
Students attending the summer academy will learn from credentialed educators, have daily interactions with female STEM role models from a variety of fields, participate in hands-on experiments and practice strategies in teamwork, resiliency, self/group motivation, and trial and error.
Each week, students will explore different themes and attend a field trip to a location that enhances that week's area of focus. The weekly themes will include Sports Medicine, Designing Your World, Mythbusters, Coding and Makerspace, Space Explorers and Deep Sea Divers.
For additional information about Project Scientist Summer Academy at Concordia University Irvine, visit http://www.projectscientist.org or contact info(at)projectscientist(dot)org.
About Concordia University Irvine:
Concordia University Irvine (CUI) is a non-profit Lutheran Christian four-year liberal arts university that prepares students for their vocations—their calling in life. Concordia offers undergraduate, graduate, and doctoral programs in education, nursing, theology, business, and coaching/athletics administration. CUI's undergraduate program is distinctive because of its nationally recognized core curriculum, Enduring Questions & Ideas, and its Lutheran heritage that provides a thoughtful and caring Christian community that lives out the theology of "Grace Alone. Faith Alone." Concordia is a U.S. News Top Tier Regional University and has been named by The Chronicle of Higher Education as one of the fastest growing private nonprofit master's institutions. The university is part of the Concordia University System, the second largest education ministry system in the United States just behind the Catholic Church. The private university enrolls over 4,000 students annually and is in its final year of the National Collegiate Athletic Association (NCAA) Division II Membership process.
About Project Scientist:
Founded/established in 2011, the mission of Project Scientist is to educate, coach, and advocate for girls and women with an aptitude, talent, and passion for STEM. Through engagement of top STEM companies, universities, teachers and hands-on curriculum, Project Scientist Summer Academy attendees discover opportunities available to them in STEM. The need for Project Scientist was based off research that shows girls with a high skill, aptitude, and talent for STEM subjects are not currently served or identified at a young age. Founder Sandy Marshall of Laguna Beach, Calif. created Project Scientist to change the world's view of "who" a scientist is and "what" a scientist does. Project Scientist partners with Harvard University and the University of North Carolina Charlotte to research its educational model and to validate the impact that camp programs are having on those who attend.
###
CONTACT:
Orith Farago
Communications Consultant
(714) 582-2300
Orith(at)ogf-pr(dot)com
Lizz Mishreki, APR
Director of Public Relations
(949) 214-3146
Lizz(dot)Mishreki(at)cui(dot)edu