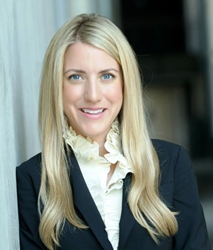 Samler also earned special recognition with inclusion in Up- and-Coming 100 and Up-and-Coming 50: 2017 Women.
Dallas, Texas (PRWEB) June 07, 2017
In the field of peer recognition and professional accomplishments, GoransonBain's Kathryn F. Samler has done it again. For the fourth consecutive year, the Dallas-based family law attorney has earned a spot on Texas Super Lawyers Rising Stars list. The Texas Rising Star professional accomplishment places Samler among only 2.5 percent of Texas' nearly 97,000 attorneys who receive the annual honor.
Samler also earned special recognition with inclusion in Up- and-Coming 100 and Up-and-Coming 50: 2017 Women.
"Katie is among our team of law professionals who embrace our firm culture that is based on sound advice, respect, integrity and client responsiveness," said Curtis W. Harrison II, Managing Partner. "To see Katie recognized among her peers in the legal community is an affirmation that our reasoned approach to family law benefits our clients and earns the respect of our peers," he added.
The annual selections are made using a patented multiphase process that includes a statewide survey of lawyers, an independent research evaluation of candidates and peer reviews by practice area.
To families going through divorce and child custody issues, Samler provides a goal-oriented approach to achieve favorable outcomes for her clients and their families. Samler also has unique experience and background guiding families in cases involving sensitive issues that require a well-planned and strategic approach, including cases involving a personality disorders and substance abuse issues. An advocate for families, she understands the emotional and financial toll that litigation can take; and as a result, whenever possible, she collaborates with clients and opposing parties to reach a resolution without unnecessary litigation. Samler has been selected as a Texas Rising Star for the past four years.
A resident of Dallas, Samler joined GoransonBain in 2013. She received her J.D. from St. Mary's University School of Law and her B.A. from Baylor University.
To learn more about Katie Samler and her expertise, visit https://www.gbfamilylaw.com/attorney/kathryn-flowers-samler/.
About Super Lawyers
Super Lawyers, a Thomson Reuters business, is a rating service of outstanding lawyers from more than 70 practice areas who have attained a high degree of peer recognition and professional achievement. The list will of Texas Super Lawyers Rising Stars is featured in the April 2017 issue of Texas Monthly.
About GoransonBain, PLCC
GoransonBain is a Texas family law firm founded in 1987. Since its inception, GoransonBain has fostered a constructive atmosphere and strategic approach to help client's controls costs, minimize the disruption to their daily lives and achieve the best possible outcome. The firm's team of attorneys, including three former family court judges, offers clients comprehensive experience and perspectives to work towards an efficient resolution in complex situations. Services encompass virtually every facet of family law, including divorce, asset identification and valuation, complex property matters, collaborative law, mediation, premarital and postmarital agreements, child custody and visitation, property division, child support, adoption, paternity, and same-sex legal issues. For the past five years, U.S. News & World Report named GoransonBain a Best Law Firm in its U.S. News - Best Lawyers® for family law and family law mediation, an achievement that involved a rigorous independent evaluation process.
The firm maintains three Texas offices in Dallas, Plano and Austin.