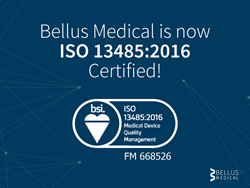 I'm very proud to have received the ISO 13485:2016 certification. It allows us to demonstrate and show from a third party certification that Bellus Medical is the company we say it is.
Addison, TX (PRWEB) June 13, 2017
Bellus Medical, a leader in medical aesthetics products and devices, recently earned the ISO 13485:2016 certification. ISO 13485:2016 specifies requirements for a quality management system where an organization needs to demonstrate its ability to provide medical devices and related services that consistently meet customer and applicable regulatory requirements. This certification has been established by the International Organization for Standardization (ISO), the largest developer and publisher of international standards. These standards ensure Bellus Medical meets world-class specifications for products, services and systems, to ensure quality, safety and efficiency.
"The ISO 13485:2016 certification proves the strength of our organization, demonstrates our commitment to quality, and builds our customers' confidence as their trusted partner," said Joe Proctor, Bellus Medical President and CEO. "I'm proud to recognize this significant milestone for our company, making Bellus Medical the only microneedling provider to meet the ISO 13485:2016 standards."
Certification requirements

Documenting policies for record controls, internal auditing procedures, non-conformance controls, preventative and corrective actions, process and design controls, record retention, accountability and traceability.
Risk management must be thoroughly documented and conducted throughout a product's entire lifecycle, from initial concept to delivery and post-delivery.
Benefits of ISO 13485:2016 certification

Access to international markets. National regulatory authorities require or strongly prefer that manufacturers marketing medical products in their countries have a third-party audited and certified management system in place. Investing in such a system speeds access into those countries that require it, and expedites market entry into the others.
Reduced cost of sales. Compliance reduces operational costs by improving efficiency and highlighting inefficient processes.
Improved customer satisfaction. Consistent delivery of high-quality products increases customer satisfaction, and positions Bellus Medical as a trusted partner.
Enhanced Trust. Demonstration of the executive management's involvement in the dedication to the company's quality system is required to obtain certification. This shows that Bellus Medical is focused on quality at every level of the organization…product, people and processes.
"This certification is a tangible demonstration of Bellus' ability to provide medical devices and related services that consistently meet customer and applicable regulatory requirements with an industry-leading speed to market," said Dr. Thomas Hitchcock, Vice President of Medical and Clinical Affairs. "It also shows that we are able to secure and maintain global business because the standard is harmonized with most international regulatory agencies."
About Bellus Medical
Bellus Medical, headquartered in Addison, Texas, is an industry leader in medical aesthetics with a solid reputation of providing the highest levels of safety and product efficacy, along with the most innovative technology on the market. Bellus Medical was founded in 2012 and quickly became a pioneer in the medical microneedling industry with the introduction of their flagship product SkinPen®, a state-of-the-art microneedling device. The product portfolio continues to expand with differentiated products that enhance the patient experience and represent a significant business opportunity for medical practices. Built upon three core principles: customer service, technology and education, Bellus is much more than a supplier to aesthetic practices. It is a trusted business partner. To learn more about Bellus Medical, visit http://www.BellusMedical.com.
About International Organization of Standardization
ISO is an independent, non-governmental international organization with a membership of 163 national standards bodies.Through its members, it brings together experts to share knowledge and develop voluntary, consensus-based, market relevant International Standards that support innovation and provide solutions to global challenges. To learn more about ISO, visit http://www.iso.org.