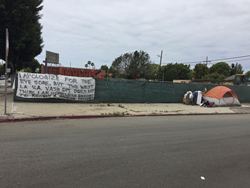 At the end of the day, this is a real estate and urban planning exercise to which VA is inadequately prepared for the mission.
Los Angeles, CA (PRWEB) June 07, 2017
On the heels of last week's announcement of a 57% annual spike in veterans homelessness throughout Los Angeles County, Vets Advocacy issues its first report card on the VA Greater Los Angeles Healthcare System's progress toward fulfilling public commitments in the wake of the landmark Valentini vs. Shinseki legal settlement.
The report card identifies five programmatic areas for evaluation: Illegal Leases, Master Plan Implementation, Building 209, Federal Advisory Committee Act and HUD-VASH. Each program is evaluated on the basis of compliance with publicly stated goals and commitments, execution time and transparency. Scores range from Excellent, Satisfactory, Needs Improvement to Failing.
"We believe the report card is a good faith effort to objectively monitor VA on a range of issues reflected in the 2015 settlement agreement. Additionally, the report card reflects VA's performance beyond their standard healthcare practice," said Dan Garcia, Army veteran and Vets Advocacy Chief Executive Officer. "At the end of the day, this is a real estate and urban planning exercise to which VA is inadequately prepared for the mission."
The VA West Los Angeles Draft Master Plan calls for at least 1,200 units of dedicated veteran permanent supportive housing to be constructed on the 388-acre campus. As planned, it is the single largest homeless housing project in Los Angeles County. The report card acknowledges VA Greater Los Angeles Healthcare System has made incremental steps but fails to comply with key public commitments set forth in the Draft Master Plan Framework, the West Los Angeles Leasing Act of 2016, and the Valentini settlement agreements.
Jesse Creed, Vets Advocacy's Executive Director, points to Building 209 as a case study for the organization's worries, "Building 209 is a symbol for our concerns. It took VA five years to put 64 units into operation. Now VA has delayed the initial phase of 490 units by 18 months. Veterans who are homeless and sleeping on the streets don't have time to wait."
Gary Blasi, Vets Advocacy's Board Member and renowned expert on homelessness, laments that VA has lost the initiative, "Anything less than Excellent on the report card should be a wake up call to both national and local VA officials. With Veteran homelessness in Greater Los Angeles up by 64% this year, with 3,400 veterans literally on the streets, further delays are not acceptable. Certainly not when there is land available to address the issue head on."
Vets Advocacy is also honored to announce that Carolina Winston Barrie, descendant of Arcadia Bandini de Baker who donated the land for the VA West Los Angeles campus in 1887, Public Counsel, the largest pro bono law firm in the nation, and Inner City Law Center, a non-profit law firm focused on housing and homelessness throughout Southern California, have all endorsed the report card. Mark Rosenbaum, counsel for the plaintiffs in the Valentini litigation and an attorney with Public Counsel commented, "Apparently the VA believes it is enough that our vets serve the nation in our time of need, but not the other way around."
A complete copy of Vets Advocacy's VA Greater Los Angeles Homeless Veteran Report Card is available for review at the following link:
https://www.vatherightway.org/report-card/
About Vets Advocacy
Vets Advocacy is a privately funded, non-profit organization facilitating revitalization of the U.S. Department of Veterans Affairs West Los Angeles campus as a condition of the Valentini v. Shinseki settlement.
Contact
Anthony Allman
Director of Outreach
424-348-0083
Email: anthony(at)vatherightway(dot)org