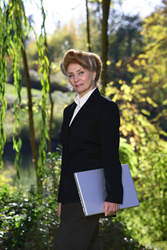 Grants Pass, OR (PRWEB) June 07, 2017
Respected international water researcher Sharon Kleyne cares about all things that involve water and that certainly extends to our nation's need for upgraded and improved water infrastructure. That is why, earlier today during a special commemorative ceremony at the research center and company she founded more than two decades ago, Bio-Logic Aqua® Research Water Life Science®, Kleyne shared somber remembrance of perhaps the greatest water disaster in American history.
"On this day, May 31st, 1889," Kleyne recalled for her audience, "the South Fork Dam, fourteen miles upstream of Johnstown, Pennsylvania suffered catastrophic failure." Kleyne described how many days of very heavy rain preceded the dam's failure. 'Once it broke," Kleyne said, "20 million tons of water (4.8 billion U.S gallons) rampaged down the valley." Kleyne shared how the Johnstown flood killed 2,209 people. Property damage back then amounted to $17 million dollars (it would be in the billions today). "Many of us tend to think of these disasters as unfortunate stories that took place in the ancient past," Kleyne cautioned, "but the truth is, the same or worse can happen today with our larger populations and aging infrastructure."
Kleyne, a supporter of dams and reservoirs, still sees a pressing need to upgrade existing facilities and begin construction on new structures. Kleyne noted that another byproduct of the Johnstown Flood (also referred to as The Great Flood) was the number of legal defeats that the surviving victims suffered in their efforts to recover damages from the dam's owners. This litigation went on for years and drained the economy, but the situation also enraged the general population until, finally, new developments in American law balanced the liability load, placing much greater emphasis on who is at fault in a case. -
Kleyne, host of the nationally syndicated radio program, The Sharon Kleyne Hour Power of Water, Global Climate Change and Your Health on VoiceAmerica sponsored by Nature's Tears® EyeMist®, also talked with pride about another unexpected reaction to the Johnstown Flood. "The Johnstown flood," Kleyne said, "became the first major disaster relief effort handled by the brand new American Red Cross led by the legendary Clara Barton." Kleyne also pointed out that support for the victims poured in from all over the U.S. and from 18 foreign countries. "We can always learn from history," said Kleyne. "We can even learn from expressions of generosity and selflessness we may have forgotten." Alluding to that spirit and the memory of such a compelling disaster as the Johnstown Flood, Kleyne firmly called on America's political leaders to do the right thing and commit at once to improving water infrastructure and providing clean, safe water for every citizen. Only then will the victims, survivors and their ancestors find peace knowing that good works came of great sorrow and tragedy.