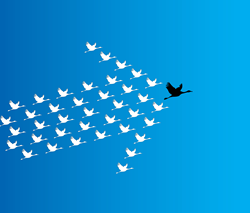 Rank does not confer privilege or give power. It inspires responsibility! -Peter F. Drucker
Kure Beach, NC (PRWEB) June 09, 2017
Employees get paid to perform operational tasks, leaders get paid for results. Employees execute the organization's strategy, leaders drive the strategy. Leaders are stage setters, not performers. As the global economy gathers momentum, organizations need to transform their leadership development programs from a perennial question mark to a source of strategic strength.
The common denominator of high-performance organizations is great leadership at all levels, not just the top. Great leaders drive profitable growth by challenging conventional wisdom, ensuring clarity of direction, and unshackling the human capabilities of the organization. Great leaders embrace change because they know it creates opportunity. In a world of accelerating change, relevance should never be taken for granted; and the impact of leadership should never be underestimated.
To develop leaders at all levels, regardless of education level, from store manager through owner/CEO, a new leadership development handbook has been released: What Great Leaders Do.
This how-to handbook is a quick read, easy to comprehend, and packed with actionable insights, and daily strategies and tactics. It includes:
1. 7-things great leaders consistently do.
2. Leadership character traits.
3. Leadership assessment.
4. Seeing and interpreting reality.
5. Reinforcing the right behaviors.
McKenna's handbook is priced so that every leadership position within the organization can have their own personal copy - a small investment to maximize ROI on an organization's largest investment: people. This handbook provides organizations the peace of mind and confidence that their leaders are prepared to effectively lead, produce results, and develop the next generation of leaders.
Order a copy today for only $9.95 at: http://www.terrymckennabooks.com.
###