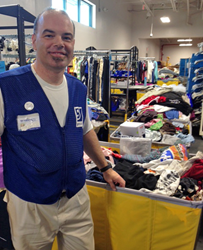 "Any time I talk to his supervisors, they say he is a model employee," says James' job coach, John McConnell.
Ormond Beach, FL (PRWEB) June 19, 2017
James Molonson has come a long way.
In the past, James struggled to find a job that best suited his abilities, because his communication disorder made it difficult to interact with other people in his environment. He also had other health issues that needed to be addressed. Today he works as a processor and greeter at Goodwill in Ormond Beach, where he stocks item in the store and assists customers. His communication skills have improved, his confidence has soared, and he has become such a valuable employee that he was offered a raise within his first 90 days of work.
"Any time I talk to his supervisors, they say he is a model employee," says James' job coach, John McConnell. "He has a great personality, and he is so thorough and hardworking. He's just a good man. "
James came to VR, a state agency that helps people with disabilities get or keep jobs, for help helping finding work when his family first moved to Florida. Though he had previous work experience, he was still struggling to find a suitable job.
VR provided training and counseling to improve his employment prospects, and helped James search for a job where he could be successful. After three years of looking for the right fit, he began working at Goodwill as a stocker/processor in June 2015.
James' VR counselor, Sharon Jorgenson, is proud to see James succeed at Goodwill. "He has excelled on the job," says Sharon. "He has come so far and it's been great to see his progress. He is a pleasure to work with."
James and his family are thrilled with his success at work, and are grateful for the people who have helped him along the way. "Sharon was the best," says James. "She was very nice."
"Sharon is amazing, and his job coach, John, is a wonderful man," adds James' mother, Linda. "If there were more people like them, the world would be a better place."
James is also grateful for the kindness of his coworkers and supervisors as Goodwill. "I like the job because I like the people," says James. "Everyone is so nice to me."
When he isn't working, James is training for the Special Olympics. He has participated in the games for many years and has won a gold medal in golf twice. He plans to compete in swimming next. "I'm going for the gold again," he says.
James brings that same determination to his job, where he is working hard each day — and he hopes to keep working as long as he can. "I want to stay at Goodwill forever," he says.
About Vocational Rehabilitation
Florida's Vocational Rehabilitation (VR) is a federal-state program committed to helping people with disabilities become part of America's workforce. The employer-focused website, https://abilitieswork.employflorida.com/, allows businesses to search at no charge for employees who are ready to go to work, as well as to post available jobs. VR has 90 offices across Florida, and last year helped 5,194 Floridians with significant disabilities find or keep a job. For more information about VR and its services, call (800) 451-4327 or visit http://www.Rehabworks.org.