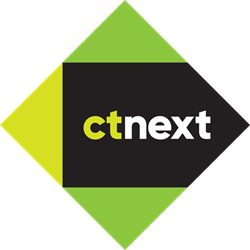 Rocky Hill, CT (PRWEB) June 07, 2017
CTNext, Connecticut's go-to resource for entrepreneurial support, today announced the finalists that will have the opportunity to pitch at the next Entrepreneur Innovation Awards (EIA) event scheduled for Thursday, June 15 at the LOFT at Chelsea Piers in Stamford.
The companies competing for $10,000 grants include:

Deo2go (Fairfield): Creating a topical delivery device that can be filled with a variety of products including, but not limited to deodorant, lip balms, and sunscreen
Egghead (Danbury): Developing a new way to package and sell ice cream that brings new revenue to a mature market
FallCall Solutions (Trumbull): Creating a tele-monitoring system for the Apple watch and other mobile systems for elders and caregivers
Fjord Weather Systems (Wilton): Developing a way to turn every boat on the water into a weather-monitoring system
LiquidSphere (New Haven): Creating an interactive app that will connect people who struggle with stress, anxiety, depression and addiction with therapists via text and video sessions
Lucca Ventures (Southington): Developing a Bluetooth-enabled microphone attachment to a full-face oxygen mask, letting patients communicate clearly while wearing it
Obvia (West Hartford): Manufacturing dual-winglet blades and semi-shroud power upgrade for Sunforce Wind Turbines that will improve efficiency and scalability for the turbines
Sweet Equations (East Hartford): Making custom candy cakes, edible cupcake displays and other desserts through the development of an on-demand decorating device
Trekeffect (Lyme): Developing a system to let individual travel planners buy and sell their itineraries.
To determine the finalist pool, each company's application was vetted by a separate and independent team of reviewers who deemed their products, services and/or business ideas worthy of consideration for an EIA. Each finalist will have an opportunity to compete for a $10,000 grant as well as the judges' and crowd favorite awards, each in the amount of $2,000 each.
The judges who will hear the company pitches and determine the winners include:
Elena Cahill: Senior Lecturer, University of Bridgeport, Entrepreneurship Department
Jim Kern: Co-founder, COMRADITY
Greg Kivenzor: Associate Professor of Marketing, Director of Experiential Learning Collaborative, UCONN- Stamford
Mark Lasoff: Founder, LearnToProgram
Mike Roer: President, The Entrepreneurship Foundation
Throughout the year, CTNext hosts the EIA, a Shark Tank–style pitch event where Connecticut-based startups and entrepreneurs compete for grants that can be applied toward a specific project that will help accelerate growth. Since its inception in 2014, CTNext has held 11 total events in cities and towns all over Connecticut, awarding $544,000 to 52 unique companies.
About CTNext
CTNext is Connecticut's go-to resource for entrepreneurial support. The goal of the program is to build a more robust community of entrepreneurs and to accelerate startup growth by providing access to talent, space, industry expertise, services, skill development and capital to foster innovation and create jobs for people in Connecticut. CTNext launched in 2012 and has more than 1,500 members in its network. To learn more, visit http://www.ctnext.com.
Media Contact:
Greg Kalish
CTNext
1-860-207-8025
gkalish(at)gkcomms.com