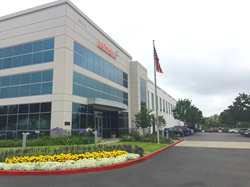 Lawrenceville, GA (PRWEB) June 12, 2017
Amware Logistics, a national warehousing and fulfillment company, will open a new fulfillment warehouse in Carson, CA just 10 miles from the Ports of LA and Long Beach. The building will open for operation on July 1, 2017.
The 100,000-square-foot Carson warehouse, located at 2270 East 220th Street, will focus primarily on direct to consumer order fulfillment, allowing Amware to expand with existing clients and grow with new ones.
This will be Amware's 7th major fulfillment center across the country and will increase the company's order processing volume significantly. Amware already processes tens of millions of orders each year. In addition to Carson, the company has fulfillment centers in New Jersey, Atlanta (3), Dallas, and Phoenix, with delivery to 98% of the country within 1-3 days.
"The Carson warehouse is ideally located to get products to West Coast consumers faster," says Amware CEO, Vin Gulisano. "We are literally minutes from the country's largest port complex, where products arrive, and the huge consumer markets in LA and Southern California."
About Amware
Amware Logistics is a fulfillment specialist that helps fast-growing companies scale fulfillment operations through every stage of their growth cycle. With distribution centers located across the U.S., Amware enables 1-3 delivery to 98% of the U.S. The company is equally adept at operating B2C and B2B fulfillment environments, providing one logistics partner for all sales channels.