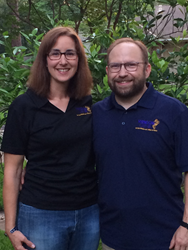 It's been a long time coming.
Shreveport, LA (PRWEB) June 07, 2017
Window Genie announces the grand opening of its newest location in Shreveport on June 12th. Eric Gnann is the owner/operator. Window Genie is a national home service franchise specializing in residential and light commercial window cleaning, window tinting, pressure washing, gutter cleaning and more. Window Genie of Shreveport is the first Window Genie in Louisiana and will service home and small business owners in Shreveport, Bossier City, Keithville, Stonewall, Benton, Haughton and the surrounding areas.
Before purchasing a Window Genie franchise, Gnann worked in digital marketing. Always having "the itch" to own a business, Gnann spent the last few years researching his options. "It's been a long time coming," Gnann said. "I'd always had the desire to be my own boss, and just never pulled the trigger until now. Honestly the timing just felt right more than anything." According to the U.S. Census Bureau, about one in every 10 Americans is self-employed, equaling about 14.6 million people in the U.S.
Through independent research, Gnann read an article that listed some of the top low-cost franchise opportunities; Window Genie being one of them. "I was already focused in on finding a service business, and Window Genie definitely stood out to me on paper. It was low investment and with multiple services, there were multiple revenue streams," Gnann said. "What really helped me zero in on Window Genie though was that during my research, I discovered that Window Genie had recently been acquired by the Dwyer Group®."
Dwyer Group is the holding company of 18 home service brands including Mr. Rooter, Molly Maid, Mr. Handyman, and since November of 2016, Window Genie. Gnann said, "When I worked in digital marketing I had the pleasure of working with a handful of other Dwyer Group brands, so was familiar with the reputation they had for quality of service, as well as the company culture. I felt an immediate confidence in Window Genie as a viable option for me. There's a real need for cleaning and maintenance, and through my research I saw little competition in the area. In so many ways, for so many reasons, it just made sense to me."
Window Genie of Shreveport officially opens for business on June 12th. All field technicians are fully trained, insured, bonded and have passed a background check. For more information, or for a free estimate, contact owner Eric Gnann at egnann(at)windowgenie.com or by calling 318-626-7667
###
About Window Genie:
Founded in 1994 by Richard Nonelle, Cincinnati-based Window Genie is a national home service franchise specializing in residential and light commercial window cleaning, window tinting, pressure washing and gutter cleaning. Additional services in select markets include gutter re-securing, roof washing, solar panel cleaning, holiday light instillation, dryer vent cleaning and more, visit http://www.windowgenie.com. Window Genie currently operates with over 100 locations in 29 states. Window Genie is a subsidiary company of Dwyer Group®, a service based franchise organization. Target markets for growth include New York, California and Florida. For more franchising information, visit http://www.windowgeniefranchise.com