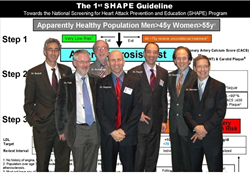 Testing for traditional risk factors and having a normal "average" cholesterol is not enough and does not mean that you will not have a heart attack. In fact, over 60 percent of heart attack victims have normal cholesterol.
Houston, TX (PRWEB) June 12, 2017
Heart attack and stroke account for more death and disability than all cancers combined. Multiple screening tests are widely used for subclinical cancers such as mammography and colonoscopy. However, none is nationally recognized for subclinical atherosclerosis, which underlies both heart attack and stroke. This void leaves many individuals – even those with severe atherosclerosis – unaware of their risk because they have no symptoms.
"Testing for traditional risk factors and having a normal "average" cholesterol and blood pressure is not enough and does not mean that you will not have a heart attack. In fact over 60 percent of heart attack victims have normal cholesterol. A population-based statistically normal cholesterol level may not be good for an individual. If your cholesterol is normal and your coronary arteries are full of plaque buildup, that cholesterol is not normal for you," said Dr. Morteza Naghavi, founder and Chairman of SHAPE. "One of the most meaningful Father's Day gifts would be a coronary calcium screening test. It is an excellent way to show Dad that you love him and want him to enjoy a long life without heart failure and other complications of a sudden heart attack."
Every day over 2000 healthy-looking individuals arrive at emergency rooms with a 1st-time heart attack. Had they been tested by traditional risk factor assessment based on existing guidelines the day before, about 70% of them would have been considered low to intermediate. Modeled after successful cancer screening efforts, the SHAPE Task force Guideline calls for men 45-75 years and women 55-75 years to undergo screening to assess coronary plaque or carotid wall thickness. It recommends the coronary calcium scan (Heart Scan) or carotid scan (Carotid IMT) – two tests that have proven to be strong predictors of those who are vulnerable to a heart attack or stroke. Preventive exams give healthcare professionals the opportunity to take appropriate action before fatal symptoms appear.
"Screening based on SHAPE that supplements traditional risk factor tests could possibly have saved my late husband's life," said JoAnne Zawitoski, a maritime attorney and Chairwoman of SHAPE who is organizing the 9th Golf Fore Heart event in Baltimore. "Like many other victims, Guy suffered a massive heart attack and died instantly just days after his physician reported his risk factor tests as normal. He was only 49. On behalf of our two sons, please protect your loved ones by being proactive with your heart health. Know your risk, if you have plaques in your coronary arteries you need aggressive treatment and by doing so you can prevent a heart attack."
The SHAPE Task Force estimated that screening of asymptomatic men and women would have the following potential clinical outcomes:

It would prevent more than 90,000 deaths from cardiovascular disease each year.
It would reduce the population with a history of heart attack – currently estimated to be 13.2 million – by as much as 25 percent.
It would save approximately $21.5 billion annually by saving those at highest risk, most of whom are unaware of the danger they are facing.
"The key is identifying asymptomatic patients at risk before a critical event occurs. With current medical therapies, we can reduce the chances of having a heart attack or sudden death by approximately 75%," according to Dr. Daniel Berman, Director of Cardiac Imaging at Cedars-Sinai Medical Center in Los Angeles, CA. "The SHAPE approach is far more accurate than traditional risk factor tests in identifying high risk patients and in need of aggressive medical therapy," according to Dr. Berman.
Heart disease is the number one cause of death in the U.S. According to the Center for Disease Control there are over 500,000 first time heart attacks every year. Among them over 150,000 lose their lives within an hour of the event. SHAPE urges family members to try and save their father being one of those victims.
About SHAPE
The Society for Heart Attack Prevention and Eradication (SHAPE) is a non-profit organization that promotes education and research related to prevention, detection, and treatment of heart attacks. SHAPE is committed to raising public awareness about revolutionary discoveries that are opening exciting avenues that can lead to the eradication of heart attacks. SHAPE's mission is to eradicate heart attacks in the 21st century. SHAPE has recently embarked on "Machine Learning Vulnerable Patient" project which is a collaborative effort between world's leading cardiovascular researchers to develop a new Heart Attack Alert System based on Artificial Intelligence. Additional information is available on the organization's website at http://www.shapesociety.org or by calling 1-877-SHAPE11 or emailing contact(at)shapesociety.org.
About SHAPE Task Force:
The SHAPE Task Force, an international group of leading cardiovascular physicians and researchers, has created the SHAPE Guidelines, which educates physicians on how to identify asymptomatic atherosclerosis (hidden plaques) and implement proper therapies to prevent a future heart attack. According to the SHAPE Guidelines, men 45-75 and women 55-75 need to be tested for hidden plaques in coronary or carotid arteries. Individuals with high risk atherosclerosis (high plaque score) should be treated even if their cholesterol level is within statistical "normal range." If they have plaques, the so-called normal is not normal for them. The higher the amount of plaque burden in the arteries the higher the risk and the more vulnerable to heart attack. SHAPE Guideline aims to identify the asymptomatic "Vulnerable Patient" and offer them intensive preventive therapy to prevent a future heart attack. Knowing one's plaque score can be a matter of life and death. Additional information is available by calling 1-877-SHAPE11 or 713-529-4484. And Additional information is available at http://www.shapesociety.org.
The SHAPE Task Force includes the following:
Morteza Naghavi, M.D. – Executive Chairman
PK Shah, M.D. – Chair of Scientific Board
Erling Falk, M.D., Ph.D. – Chief of Editorial Committee
SHAPE Task Force Members and Advisors (alphabetic order):
Arthur Agatston, M.D., Daniel Arking, Ph.D., Juan Badimon, Ph.D., Raymond Bahr, M.D., Daniel S. Berman, M.D., Matthew J. Budoff, M.D., Jay Cohn, M.D., Michael Davidson, M.D., Raimund Erbel, M.D., Erling Falk, M.D., Ph.D., Zahi Fayad, Ph.D., Sergio Fazio, MD, PhD, Steven B. Feinstein, M.D., Craig Hartley, Ph.D., Harvey S. Hecht, M.D., Howard Hodis, M.D., Ioannis Kakadiaris, Ph.D., Sanjay Kaul, M.D., M.P.H., Asher Kimchi. M.D., Wolfgang Koenig, M.D., Ph.D., Iftikhar J. Kullo, M.D., Daniel Lane, M.D., Ph.D., David Maron, M.D., Roxana Mehran, M.D., Ralph Metcalfe, Ph.D., Morteza Naghavi, M.D., Khurram Nasir, M.D., M.P.H., Tasneem Z. Naqvi, M.D., Jagat Narula, M.D., Paolo Raggi, M.D., George P. Rodgers, M.D., James HF Rudd, Ph.D., John A. Rumberger, PhD, M.D., Robert S. Schwartz, M.D., PK Shah, M.D., Leslee Shaw, Ph.D., David Spence, M.D., H. Robert Superko, M.D., Henrik Sillesen, M.D., Ph.D., Pierre-Jean Touboul, M.D. Nathan D. Wong, Ph.D.
Distinguished SHAPE Task Force Advisor: Valentin Fuster, M.D., Ph.D.
Chair of SHAPE Board of Directors: JoAnne Zawitoski, J.D.
Vice Chair and Executive Board Member: Brenda Garrett Superko, CVRN
SHAPE Task Force Public Relations: Daniel Keeney
Click here to learn about SHAPE Centers of Excellence
http://shapesociety.org/centers-of-excellence/
Drs Naghavi, PK Shah, Daniel Berman, and Mathew Budoff members of he SHAPE Task Force explain how hospitals and community clinics can become a SHAPE Center of Excellence and establish themselves a leader in preventive health.
Click here if you are a golfer and wish to play in SHAPE's "2017 Golf Fore Heart" or if you are a volunteer who wishes to help in this charity event: http://shapesociety.org/golf-fore-heart/