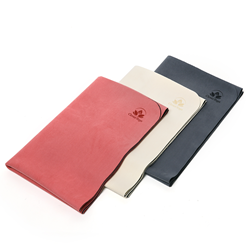 Meditations from the mat
Tampa, Florida (PRWEB) June 13, 2017
Clever Yoga recently released its revolutionary new travel yoga mat that can be thrown directly into the washer and dryer. The first few customers have tried it out and have amazing things to say about their experience.
Local yogis in the Tampa Bay area have tried it out too, and everyone wants to get a second one.
Here are some of the revolutionary benefits of this travel mat:
1. It can be thrown directly into the washing machine and dryer, just like a towel.
2. It stays on the floor or mat perfectly during every yoga session. It is completely flat and doesn't move around or wrinkle ... which means yogis can focus on their practice.
3. The bottom layer of the mat is natural tree rubber so it is eco friendly. The top layer is soft and comfortable.
4. An added bonus is that after a sweaty yoga session, yogis can use their mat to protect their car seat on the ride home. It works better than a microfiber car seat cover.
Here are a couple tips to make the best use of the travel mat:
1. Right before class, sprinkle the mat with water where hands and feet normally land. This will provide superior grip.
2. The mat doesn't need to be completely dried. If left with a little moisture, there won't be a need to sprinkle water on the mat before practice.
About Clever Yoga 
Clever Yoga is an innovative woman-owned and operated company, based in Tampa, Fla.  
Clever Yoga aims to offer superior, reliable products that make a difference in customers' lives. The Clever Yoga team uses meticulous market research and strict quality control and testing to create high-quality products.
Recently, the company has launched an online store using the largest online retailer, Amazon, as their platform. CleverYoga's online store can be found on Amazon. 
Established in 2014, Clever Yoga's mission is to provide reliable, high quality yoga equipment, as well as excellent customer care.