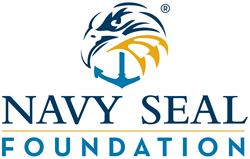 The Navy SEAL Foundation "… exceeds industry standards and outperforms most charities in (your) area of work." -- Charity Navigator, June 1, 2017
VIRGINIA BEACH, Va (PRWEB) June 08, 2017
The leading charity evaluator in America has again recognized the Navy SEAL Foundation by awarding the nonprofit their highest possible rating. Charity Navigator announced last week it had presented the Navy SEAL Foundation with its coveted "Four-Star" rating for the sixth consecutive year.
"This is our highest possible rating and indicates that your organization adheres to sector best practices and executes its mission in a financially efficient way," said Michael Thatcher, president and CEO of Charity Navigator. "This exceptional designation from Charity Navigator sets Navy SEAL Foundation apart from its peers and demonstrates to the public its trustworthiness." In meeting its mission to support the Naval Special Warfare (NSW) community and its families, Thatcher said the Navy SEAL Foundation "… exceeds industry standards and outperforms most charities in (your) area of work." He noted that the Foundation scored a perfect 100 out of 100 in its evaluation process for a second consecutive year; only 58 charities of the more than 8,300 evaluated by Charity Navigator received this score.
"So many wonderful people recognize the service and sacrifices that the men and women of NSW make in defense of our freedom and they want to help. The Navy SEAL Foundation is honored to do the work that we do, and we are so grateful for the generous support of our donors because, without them, our programs would not be possible," said Robin King, CEO of the Navy SEAL Foundation. "We take the trust that our donors put in our organization very seriously, and we are so happy to be recognized by Charity Navigator again this year for our stewardship and transparency."
As an example of this generosity and trust, King pointed to the Foundation's most recent signature event, the 2017 Los Angeles Evening of Tribute, held June 1, which raised $4.5 million dollars in a single evening.
Ted Sarandos, Chief Content Officer for Netflix, who attended that event, said, "I feel deeply indebted to the work of Navy SEALs and the military. If there is any way that we can show our appreciation and gratitude by helping those families, this is a way to do it – super efficiently and super effectively. It's one of the most exciting organizations filling a need that I've ever come across."
Nearly 8,300 charities in the U.S. have been profiled by Charity Navigator, ten times more charities than the next comparable rating agency. The nation's most trusted national nonprofit watchdog's unique method of applying data-driven analysis to the charitable sector has been profiled by publications such as Forbes, Business Week, and Kiplinger's Financial Magazine, among others. The Navy SEAL Foundation joins an elite group of nonprofit organizations as just five (5) percent of all charities evaluated by Charity Navigator have earned its top rating for at least six (6) consecutive years.
About Navy SEAL Foundation
The Navy SEAL Foundation's mission is to provide immediate and ongoing support and assistance to the Naval Special Warfare (NSW) community and its families. Established in 2000, the Navy SEAL Foundation is a 501(c)(3), tax-exempt, national, nonprofit organization which provides worldwide support to U.S. Navy SEALs, Special Warfare Combatant-Craft Crewmen (SWCC), NSW support personnel, post-9/11 SEAL and SWCC veterans, and their families.
U.S. Navy SEALs have been in sustained combat for over 16 years, performing hazardous work in unforgiving environments at an unrelenting pace. SEALs are currently deployed in over 30 countries across the globe and spend up to 270 days each year in harm's way. The Navy SEAL Foundation stands behind these warriors and their families by providing a comprehensive set of programs specifically designed to improve health and welfare, build and enhance resiliency, empower and educate families and provide critical support during times of illness, injury or loss.
Like the community it serves, the Navy SEAL Foundation is a solid, high-performing organization committed to excellence. 93 cents of every dollar donated goes directly to current or future programs. The Navy SEAL Foundation is a 501c3 national nonprofit charitable organization. TAX-ID 31-1728910. The Navy SEAL Foundation is a non-federal entity. It is not a part of the Department of Defense or any of its components, and it has no governmental status. Please visit http://www.navySEALfoundation.org to learn more.