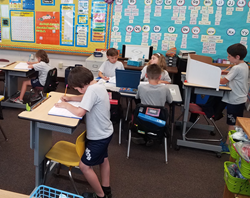 Standing up helps all children access working memory, improving concentration and engagement. -- Jonathan D. Carroll, M.A.
Chicago, IL (PRWEB) June 08, 2017
In classrooms across the country, teachers are exploring whether children learn better when they are allowed to stand and move. Angela Conway, a teacher at the Meredith-Dunn School in Louisville, has no doubt about it. As a second-grade teacher at a school that specializes in educating children with learning differences, Conway works with children who innately need to sometimes stand in order to concentrate and participate in class. She now has the ability to support the needs of these children with an innovative classroom product, the sit/stand Marvel Focus Desk.
In Conway's class, many of her students struggle to remain seated while learning, and Conway had to improvise ways to accommodate them when they needed to stand up. "Students around the room were using bookshelves and other surfaces as "desks" when they needed to stand," notes Conway.
Conway's class found a better solution with the arrival of three Focus Desks in December 2016. Designed and tested in classrooms like Conway's, The Focus Desk is a stand-optional desk with a silent lift mechanism that even young children can operate themselves. The Focus Desk promotes self-regulation and independence, allowing students to stand when they wish without interrupting the teacher or disrupting other children. The desk also includes a variety of integrated features to help students organize materials, work collaboratively, and stay on task.
"The Focus Desk provides versatility in the classroom, allowing students to take ownership of how they learn best throughout different times of the day," explains Conway. "Students that need the ability to move while they learn can change their learning position quickly and quietly without distracting others. Student motivation has increased when they are able to take ownership of their most beneficial learning position."
The dramatic improvements seen by Conway's students achieve multiple goals that apply to all children.

Studies show that standing improves mental processing and learning.
Sit/stand desks also help fight childhood obesity, according to university research in the US and in Great Britain. Children who stand at desks burn calories in class and are less likely to be sedentary outside school.
The Focus Desk's height adjustability allows children of any size to stand comfortably and with better posture compared to fixed-height standing desks.
A spacious storage compartment in The Focus Desk keeps devices, notebooks, and other items organized. Other classroom-inspired features include an expandable desk surface, integrated hanging folders, built-in privacy walls, and even a backpack hook to keep aisles clear.
"We're finally starting to understand the importance of movement for students to stay engaged and remain focused in the learning environment," says Jonathan D. Carroll, M.A., who specializes in advocacy and educational consulting for children with ADD, ADHD, and executive functioning challenges. "Standing up helps all children access working memory, improving concentration and engagement. By allowing children to self-regulate when they choose to stand, adjustable desks promote independence and responsibility."
Even without understanding the research behind it, Conway's students clearly recognize a good thing when they see it. "All the students request to be at a Focus Desk," she notes.
The original Marvel Focus Desk is designed for grades K-8. Marvel also offers the new Focus Desk XT, scaled for taller students in high school and college. To learn more, visit http://marvelfocusdesk.com.
About The Marvel Group
The Marvel Group is a 70 year old Chicago-based manufacturer of a wide range of high-quality furnishings to large, small, and home office markets as well as the education market. Product lines range from office chairs and file cabinets to executive office furniture and open office work-stations. Marvel® products are manufactured to ISO 9001 certified guidelines and backed by a lifetime warranty. The Marvel Group offers superior customer service to assure a problem-free and timely project completion. For more information, visit http://www.marvelgroup.com.