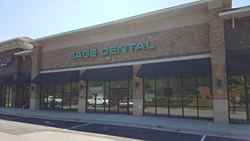 Boca Raton, Florida (PRWEB) June 08, 2017
Appointments are now available for Sage Dental of Johns Creek and Sage Dental of Cumming. Call 404-800-7576 or visit https://www.mysagedental.com/office/johns-creek/ and https://www.mysagedental.com/office/cumming/
Sage Dental continues to rapidly expand in Georgia by opening two new dental offices.The first office, opening June 19th 2017, will be located in Johns Creek, GA. The second office will be located in Cumming, GA and it is scheduled to open on July 17, 2017. The goal of these new offices is to provide local residents with the exceptional dental care Sage Dental is known for.
These two brand new, state-of-the-art offices will be conveniently located at 11160 Medlock Bridge Rd Suite 120, Johns Creek, GA 30097 and 875 Buford Road, Cumming, Georgia 30041.
Both Sage Dental of Johns Creek and Sage Dental of Cumming will be offering general & cosmetic dentistry. Orthodontics will be added later on.
The new dental offices will include modern patient care rooms, a private consultation rooms and the latest dental technology. In addition, Sage Dental of Johns Creek and Sage Dental of Cumming will be accepting most dental insurance plans and offering a VIP Discount Program to uninsured patients.
About Sage Dental
Headquartered in Boca Raton, Florida, Sage Dental has 50 convenient locations throughout South Florida, the Treasure Coast, Central Florida and now Georgia. Sage Dental is equipped to serve all of your dental needs. Whether you are looking for a General Dentist or a Specialist such as an Orthodontist, Oral Surgeon, Endodontist, Periodontist or a Pediatric Dentist, Sage Dental does it all.
With over 50 facilities in Florida and now rapidly expanding in Georgia, Sage Dental has been treating patients with excellent dental care since 1997 and has treated over 600,000 patients. Sage Dental provides a range of services from preventative, general, reconstructive, cosmetic and all specialty dentistry.