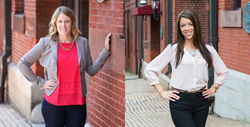 While traditional media is still critical to many PR campaigns, it's important to expand outreach to non-traditional channels to reach new audiences
Baltimore, MD (PRWEB) June 07, 2017
Abel Communications today announced that Senior Vice President Gina Zuk Gerber and Account Manager Madeline Caldwell will present at the annual PRSA Maryland Conference at Loyola University on Thursday, June 8th.
Zuk Gerber and Caldwell will be featured speakers on Influencers and Advocates: Reach your audience without traditional media. The presentation will look at the role that digital influencers and advocates play in helping companies reach their target audiences and how to cultivate those relationships.
The session will also cover how you can identify targeted influencers, from celebrities to micro-influencers that are relevant to your company's brand. Attendees will learn how to engage digital influencers as a successful component of marketing and PR strategies.
"While traditional media is still critical to many PR campaigns, it's important to expand outreach to non-traditional channels to reach new audiences," said Abel Communications President Greg Abel. "We're excited to share how we're engaging with the digital influencers who play an important role in informing consumer opinion and buying habits."
The presentation will be a part of PRSA Maryland's Annual Conference and Zuk Gerber and Caldwell will present from 11:30 a.m. to 12:30 p.m.
About Abel Communications
Abel Communications is a results-driven public relations firm specializing in campaigns to support clients in professional services, health and wellness, and non-profits. We offer a range of services including comprehensive communications planning, media relations, photo and video, social media and strategic content development. Abel Communications' clients include UnitedHealthcare, BrightFarms, STX, MRIS, 1st Mariner, Force 3, and CohnReznick. For more information, visit http://www.abelcommunications.com