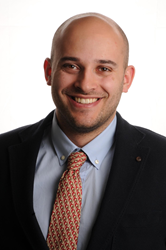 New York, NY (PRWEB) June 08, 2017
Trusted periodontist, Dr. Alexander Volchonok, is now certified in the leading-edge Chao Pinhole® Surgical Technique (PST™) and offers it as a minimally invasive treatment option for receding gums in New York, NY as well as Norwalk, CT. Gum recession can lead to a variety of issues, including sensitive teeth, tooth loss and gum disease. While traditional treatment methods require tissue to be removed from one area of the mouth and grafted into another, PST treats gum recession without sutures, stitches or a long recovery period.
Dr. Volchonok is a Diplomate of the American Board of Periodontology and frequently lectures on periodontal treatments both nationally and internationally. Whenever possible, Dr. Volchonok takes a minimally invasive approach to periodontics, in order to ensure a comfortable experience for patients and to achieve effective long-term results. The Chao Pinhole Surgical Technique is a gentle alternative to gum grafting that also limits the potential risk of infection and drastically reduces recovery time. Patients with sensitive teeth, loose teeth or other common symptoms of gum recession are encouraged to find out if they are good candidates for this safe and convenient solution. If gum recession is not treated, it can lead to additional complications, including the development of gum disease and eventually, tooth loss.
Patients who see Dr. Volchonok for gum recession treatment benefit from receiving gentle and precise care from a leading New York periodontist who strives to offer the latest care in his field. When performing PST, Dr. Volchonok carefully inserts small, specialized tools through a hole in the gums the size of a pinprick. He uses these tools to loosen and guide the gum tissue over the teeth, back to a natural position. Results can be seen immediately after the procedure is completed, and most patients experience long-term treatment success.
Dr. Volchonok encourages patients experiencing loose or sensitive teeth due to receding gums in New York, NY or Norwalk, CT, to visit either of his two practice locations for a convenient solution. Appointments can be arranged by calling his state-of-the-art practice, AVPeriodontics, at 929-293-0200.
About the Doctor
AVPeriodontics is a modern periodontal practice offering leading care to patients in New York, NY and Norwalk, CT. Dr. Alexander Volchonok is a Diplomate of the American Board of Periodontology, director and co-founder of the NYC Interdisciplinary Study Club and has lectured both nationally and internationally on various periodontal and dental implant related topics. Dr. Volchonok is dedicated to pioneering the latest minimally invasive techniques to periodontics and implant dentistry and takes a collaborative approach to patient care. To learn more about Dr. Volchonok, the services he offers, or his practice, AVPeriodontics, visit his website at http://www.avperio.com or call his practice at 929-293-0200 to schedule a personalized consultation.