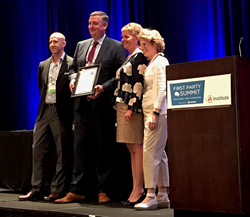 Madison, Wisconsin (PRWEB) June 09, 2017
State Collection Service, Inc., a full-service accounts receivable management solutions provider, is proud to announce its recent selection as one of the insideARM 2017 Best Call Centers to Work For. This year, only nine large companies (150+ employees) met the standard to be selected.
"We were so thrilled to have won this award in 2016, but to have won it again, among a much larger pool of companies, is beyond words. Continuing to develop State Collection Service as a premier place of employment in our region is something we remain focused on and committed to. Having employees come to work each day and enjoy themselves while producing significant results is something we continuously strive for – we know that when our employees are happy, our clients and their patients reap the benefits," commented State Collection Service President, Terry Armstrong.
State Collection Service was founded in 1949 by Hilding Haag. It remains a family-owned corporation today, with Hilding's son, Tom, serving as Chairman and Chief Executive Officer. Under Tom's leadership, the company has grown significantly while retaining the family values that form the basis of the company's corporate culture. "Making sure our employees feel like family is not only one of our core values, but I believe it is also a core strength. My grandfather and father created an environment that encourages our employees to be proud of working for a family company," added Tim Haag, Vice President of Support Services and third-generation leader. "As tomorrow's leaders of State Collection Service, we continue to enhance this philosophy."
This survey and award program was designed to celebrate excellence among call center work environments in customer care, collections, and outsourcing. Now in its 10th year, the program was established by insideARM, the leading independent news and information provider for the Accounts Receivable Management industry, and is administered by Best Companies Group, which conducts over 40 local, national and industry "Best Places" programs each year. Companies from across the U.S. entered the rigorous two-part survey process to determine the Best Call Centers to Work For. The evaluation consists of a review of each nominated company's workplace policies, practices, philosophy, systems and demographics as well as an employee survey to measure the employee experience. The combined scores determined the final ranking.
Stephanie Eidelman, CEO of insideARM, said "All of us at insideARM applaud the winners on this great accomplishment. This is a rigorous process – it is NOT a pay to play contest. We encourage all call centers who meet the criteria to participate next year. Winning is a great badge of honor. However even those who don't make the list get something extremely valuable – a blueprint for how they can improve – for virtually no cost."
In addition to being recognized as one of the Best Call Centers to Work For, State Collection Service has also been named one of the 2016 Best Places to Work in Collections, to the Inc. 5000 list of America's Fastest Growing Companies, has been named a Wisconsin Family Business of the Year winner, and has been often recognized for its use of advanced technologies including speech analytics for enhanced call performance. Additionally, State Collection Service continues to maintain its Peer Reviewed by HFMA designation from the country's largest association of healthcare finance professionals.
About State Collection Service, Inc.
Since 1949, State Collection Service has provided quality collection service to countless healthcare organizations.
Through experience and innovation, State Collection Service has grown to become a tremendously credible and nationally-recognized collection agency offering services from pre-registration to bad debt. It is upon the basis of ethical behavior and a dedication to integrity that each State Collection Service employee works to uphold the company's vision – Partnerships for a Lifetime.