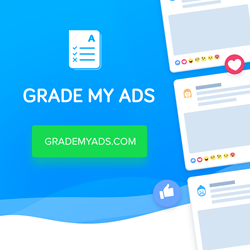 "Grade My Ads is a two click evaluation - it tells you your strengths and weaknesses at the touch of a button" Chris Smith
Boston, MA (PRWEB) June 09, 2017
Full service marketing provider, Curaytor, which specializes in boosting the marketing efforts of high flying small businesses, is excited to announce the launch of its new Grade My Ads tool. This tool allows users to break down their Facebook ad spend in an effort to discover which campaigns were high-performing and where improvement can be made, immediately.
Grade My Ads is free to use, users simply need to connect using their Facebook business account. Once on board, they can look at previous Facebook ad campaigns where a report describing successes and failures can be accessed with just two clicks. This report gives campaigns a score in four categories; consistency, quality, effectiveness, and budget. Each of these are worth 25 percent, leaving a final score out of 100 percent. According to the Curaytor team, the average score of all the ad accounts they have graded is around 61%.
Advertising via Facebook - and other social media networks - is set to explode. According to eMarketer, Facebook's predicted US display revenues are expected to increase by 32.1 percent in 2017 to capture 39.1 percent of the US display market. This is worth a massive $83 billion, and something that businesses cannot afford to miss out on. Grade My Ads data finds that total average 3-month spend in USD for all USD Facebook advertising accounts hits $8,803. Without a critical analysis, businesses might just be throwing their money away.
"When a small business owner is spending their own capital it is extremely important to see an equal or preferably progressive result," says co-founder and USA Today bestselling author, Chris Smith. "Grade My Ads is essential for assisting people in recognizing what is working best and where to apply the funds by monitoring performance."
The tools native to Facebook can be difficult to navigate when providing an overview of exactly how well a campaign is performing. Grade My Ads is a free service that will have a lasting impact on how businesses monitor their advertising campaigns on Facebook.
"Grade My Ads is a two click evaluation - it tells you your strengths and weaknesses at the touch of a button," Smith continues. "As John Wanamaker once explained, half the money spent on advertising is wasted. The problem is, no-one knows which half that is. This new tool focuses on finding that wasted half in regards to social media campaigns, helping businesses to improve campaigns and overall social media advertising strategy."