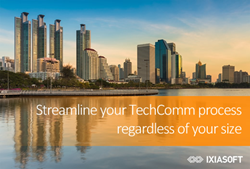 With this new model in place, our enterprise-class solution is now affordable to all, says Thibault de la Grange, IXIASOFT VP of Product.
Montreal, Canada (PRWEB) June 08, 2017
IXIASOFT, a global leader in the Component Content Management Systems (CCMS) marketplace, announced today a new subscription pricing for its DITA CMS solution. Based on packages that scale with number of users and various options, IXIASOFT's new pricing model hopes to reach out to any organization, regardless of their size, to rely on its powerful CCMS to support their content strategy. The new model provides a lower up-front investment to organizations who wish to efficiently author, manage, translate and review their technical content.
Every new customer will also benefit from the new Customer Care program which is included in every package. The deployment of a CCMS solution sometimes brings unforeseen challenges and questions which technical documentation teams need to cope with: this program was put in place to allow organizations to tap into IXIASOFT's team of seasoned professionals and ensure the long term success for all projects. As such, our Customer Care program kicks in once DITA CMS has been deployed and not only includes technical support but also functional support and access to IXIASOFT's in-house DITA expertise.
Finally, the subscription-based plans also align well with IXIASOFT's new hosted option. Indeed, customers will now have the choice to have the same great CCMS solution installed on-premise or hosted. More and more organizations and their IT teams prefer hosted applications. IXIASOFT's in-depth understanding of the solution and in-house DITA expertise will provide organizations who select this option, with a one-stop-shop for all support issues – given them the peace of mind to focus on creating great content.
For Thibault de la Grange, VP of Product at IXIASOFT, this new offer marks a shift for IXIASOFT: "In the past, DITA CMS was considered mostly by very large organizations with in-house DITA experts and considerable IT backing. As DITA becomes the de-facto standard for all technical documentation regardless of industry or size of company, customer profiles have changed and we needed to adapt our pricing and product packaging to appeal to a wider audience. With this new model in place, our enterprise-class solution is now affordable to all. And the Customer Care program simply reinforces our willingness to ensure continuity and successful projects."
The new pricing plan is effective as of today and is available here.
For more information about the new offer, contact us.
About IXIASOFT: Founded in 1998, IXIASOFT is a trusted global leader in the XML content management software industry. Its signature product DITA CMS is an award winning, end-to-end component content management solution (CCMS) that has been deployed by industry leaders such as Abbott, ARM, Ericsson, Komatsu, Qualcomm and SAP®. From authoring to reviewing, localizing and publishing, DITA CMS provides all the tools required for large, global organizations to support their entire DITA documentation process. IXIASOFT solutions are accessed by thousands of users worldwide in various vertical markets such as software, hi-tech, heavy manufacturers and medical devices.
For more information, please contact us directly or connect with IXIASOFT on Twitter and LinkedIn. Already a DITA CMS user? Join the IXIASOFT DITA CMS User Group on LinkedIn.