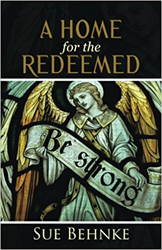 ...it strengthened me and it kindled a passion for understanding and helping others.
Canada (PRWEB) June 12, 2017
Author Sue Behnke has overcome her fair share of trials and tribulations. She was born into a dysfunctional home in Lebanon and, at age ten, witnessed her father shoot himself. She experienced war, immigration and a marriage that ended because of "her Christianity."
"My faith not only carried me through these things," Behnke said, "it strengthened me and it kindled a passion for understanding and helping others."
In her book, "A Home for the Redeemed," Behnke explores the humanity of people struggling with their faith and searching for guidance. Her characters include a disillusioned pastor, battling lust and despair; an atheist, who begins experiencing supernatural occurrences; a church member and former addict, working on a transformation.
Behnke cites her main motivation of writing this book as demystifying church leadership and encouraging others to see their leaders as human, fallible and in need of prayer and support.
"I also hope to create a hunger in Christians," Behnke said. "We desperately need heavenly strategies, in order to deal with a world that revels in sin."
For more, visit: http://www.westbowpress.com/bookstore/bookdetail.aspx?bookid=SKU-001063419.
"A Home for the Redeemed"
By Sue Behnke
ISBN: 978-1-5127-4840-4
Available at the Westbow Press Online Bookstore and Amazon
About the author
Sue Behnke has been in ministry for almost two decades, watching the grace of God deliver the broken and downtrodden. It gave her a perspective on a life that is worth sharing. Like most people who are pushing forth for breakthroughs, Sue is a survivor. Her walk with the Lord empowered and strengthened her to overcome the suicide of her father, war, abortion, immigration and heartbreak. She lives in Surrey, British Columbia.
###
Review Copies & Interview Requests:
LAVIDGE – Indianapolis
Lindsey Gobel
317-435-2116
lgobel(at)lavidge(dot)com