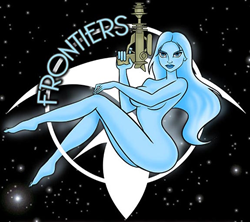 Los Angeles, CA (PRWEB) June 07, 2017
FRONTIERS — winner of the 2017 "Best of Los Angeles" award for "Best Cyberpunk Comic Book" — is now available on Comixology.com! (http://bit.ly/2qgb6aa)
Created and written by Geoffrey Ashley, FRONTIERS has been called a "PULP FICTION STAR WARS" — fueled by sex, violence and sarcasm — which tells the story of a man destined to destroy humanity...and why that really isn't such a bad thing.
This sci-fi adventure comic for adults is drawn in a raw style and packed with action, romance and dark humor, all wrapped in a classic cyberpunk warning about corporations and technology run amok. And its anti-corporate and anti-authoritarian themes could not be more timely.
FRONTIERS is also truly an indie comic. There is no crowdfunding. No publisher. Just a guy bringing his passion project to life and fulfilling the dream of telling an epic science-fiction story.
Issue #1 is currently available on Comixology.com - follow the link to purchase a copy of your own: http://bit.ly/2qgb6aa
Issue #2 will be available in late-June.
Reviews and interview requests may be sent to dean(at)idestroyhumanity.com. More information is available on the FRONTIERS website: http://idestroyhumanity.com