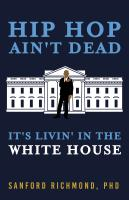 the intense, and at times, vicious racial environment surrounding the Obama presidency
(PRWEB) June 13, 2017
The book, Hip Hop Ain't Dead: It's Livin' In the White House, is about a man, Barack Obama, who made history. First, by becoming the first Black President in the history of the United States, and second, shattering the mold of conventional politics by making hip hop culture his political ally. Obama's public relationship with hip hop throughout his presidency caused just as much of an explosion of public dialogue as his place in history as the first Black American President.
Sanford Richmond details moments of his childhood as a hip hop fan, witnessing--and even personally experiencing--firsthand--some of the historical moments that granted hip hop the control and influence over the American mainstream that the culture has maintained for the last two decades.
Obama's historical presence at the White House, influenced by the social and cultural power of hip hop, should guide and inspire conversations about race relations throughout the duration of the 21st century.
Dr. Richmond writes, "I'm the first one of record on the national level to connect the Obama-hip hop puzzle into publication with my dissertation in 2011. This book chronicled the intense, and at times, vicious racial environment surrounding the Obama presidency and would foreshadow the Donald Trump presidential victory and the Black Lives Matter movement before both realities would come to fruition on the national stage".
His childhood experiences, coming of age as a hip hop fan born and raised in Los Angeles, being a classmate of slain teen Latasha Harlins and personally experiencing firsthand the 1992 Los Angeles Riots, makes him an unquestioned expert on hip hop culture, race relations, urban riots, police brutality and the creation of the Black Lives Matter movement and why a movement like this is so relevant in today's America.
About the Author
Dr. Sanford Richmond received his PhD in Cultural Studies at Washington State University. His writing and research interests are: hip hop culture, race relations, Barack Obama, politics, and popular culture.
His work on hip hop culture, race relations, pop culture, and politics has appeared in edited books and journals, including The Western Journal of Black Studies and African Americans and Popular Culture.
For more information, contact Dr. Richmond at: sanddoc(at)icloud(dot)com or visit his Facebook Fan Page: facebook.com/Richmond76/