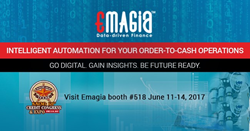 "The Future of Credit is Here"
SANTA CLARA, CA (PRWEB) June 08, 2017
Emagia Corporation, a preferred partner of NACM, today announced that it will participate at NACM'S 121st Credit Congress & Expo being held June 11-14, 2017 in Grapevine, Dallas, TX.
Emagia will be showcasing the Emagia Enterprise Receivables Management Suite for intelligent automation of credit operations. The solution empowers credit executives to modernize their credit departments, enter the digital age and to deploy next generation intelligent automation allowing credit processes to run faster, leaner and smarter. The solution provides a single unified digital automation platform for medium to large enterprises to manage all processes relating to credit approvals, billing and payments, receivables, collections, deductions and cash applications. This modern and intuitive solution also provides comprehensive reporting and prepackaged advanced analytics for valuable insights helpful for credit and finance executives to manage daily operations and make timely and informed decisions.
Emagia will also be showcasing latest innovations in TheCreditApplication.com focused for small to medium size businesses to instantly empower and transform their credit application, scoring and approval process to a paperless, digital, automated and highly efficient process.
"Digital technologies are increasing the pace of every business today and credit departments are in need of modernizing their operations for this digital age in order to do more, faster and with limited resources," said Veena Gundavelli, Founder & CEO at Emagia Corporation. "Credit departments can now have new age intelligent automation tools and software digital robots assisting them in speeding up the process like never before. We look forward to demonstrating these capabilities of Emagia solutions at NACM 121st Credit Congress & Expo."
The Emagia Enterprise Receivables Management Suite integrates with many financial systems including Oracle, SAP, PeopleSoft, JD Edwards and many legacy systems, third party credit reporting systems including NACM NTCR, D&B, Experian, CreditSafe, AncersX and others, big data platforms including Solix, as well as external systems such as lockbox systems and vendor portals. Emagia brings the power of digital technologies, artificial intelligence and machine learning techniques in the form of a very simple and user-friendly prepackaged software that is easy to use and produces game changing efficiency for the credit departments.
Emagia's TheCreditApplication.com is a cloud-based digital credit management system available as an online subscription-based service and includes customizable digital credit application form templates, digital signatures, digital reference checks, digital license verifications, automated credit scoring, auto decisions, automated credit approval workflows and integrations with leading third party trade credit report agencies.
To learn more about the Emagia Enterprise Receivables Management Suite and TheCreditApplication.com, please visit Emagia at booth #518 at the NACM Expo and meet our solution experts. Please write to us at info(at)emagia(dot)com to preschedule your meeting with our team.