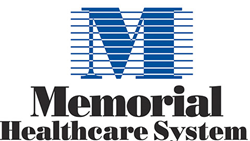 Hollywood, Fl (PRWEB) June 08, 2017
The results are in! Memorial Healthcare System achieved excellent rankings in a recent Physician Engagement Survey in which both community and employed doctors gave the six-hospital system high marks for being a progressive organization that "implements strategies aimed at improving experiences for physicians, employees and patients."
Professional Research Consultants, Inc. (PRC), the agency that conducted the independent survey, recognized Memorial as a pioneering institution worthy of the agency's most singular recognition – the 2017 President's Award for Excellence in Healthcare. The awards ceremony was held on June 1 in Austin, Texas.
"Thanks to our physicians and the entire Memorial community, we have achieved elevated engagement at every level of healthcare delivery, resulting in enhanced patient safety and high-quality care," said Aurelio M. Fernandez, III, FACHE, President and CEO, Memorial Healthcare System. "We are proud to say that the President's Award demonstrates our dedication to our core mission: providing Deeper Caring and Smarter Healthcare."
The PRC Excellence in Healthcare Awards are presented annually to organizations and individuals in the field who have achieved excellence. For the 2017 awards, Memorial topped over 2,200 eligible hospitals and health systems from PRC's client base for the agency's most significant recognition – the President's Award. Among the most noteworthy factors in awarding the President's Award, PRC cites Overall Quality of Care, Nursing Care, Performance of Administration (including communication and relationships with clinicians) and Overall Perceptions of Patient Safety and Workplace Satisfaction.
Memorial Healthcare System also exhibited excellence in other multiple Physician Engagement Categories:
o Award of Distinction for Quality of Care
o Top Performer Award for Electronic Medical Record Systems
o Eight top rankings (ninetieth percentile or greater) achieved on PRC Physician Engagement Surveys
o Level of Quality Engagement (94)
o Overall Quality of Care (94.7)
o Place to Practice (95.1)
o Electronic Medical Record Systems (99.9)
o Patient Safety (95.2)
o Laboratory Services (94.5)
o Nursing Care (93.2)
o Administration (92.9)
""The survey results show the collective perception that physicians have regarding the place where they practice medicine," said Dr. Stanley Marks, Senior Vice President and Chief Medical Officer of Memorial Healthcare System. "Physicians are engaged and dedicated to treating and healing patients. If they can do it in an environment that is committed to putting the patient first and also provides a better place to practice medicine, then that becomes the perfect setting for our community and practitioners, and that is what Memorial Healthcare System has accomplished."
About PRC
Professional Research Consultants, Inc. (PRC) is a national healthcare market research company. For more than 35 years, PRC has facilitated millions of interviews, delivered insightful reports and provided customized research solutions to hospitals and healthcare organizations. Services measure community perceptions, brand positions, patient experience, physician alignment and engagement, and employee engagement. PRC is also a certified vendor for government-mandated CAHPS surveys and has partnered with more than 400 communities across the U.S. to conduct Community Health Needs Assessments.
Memorial Healthcare System (MHS) is one of the largest public healthcare systems in the country and a national leader in quality care and patient satisfaction. Its facilities include Memorial Regional Hospital, Memorial Regional Hospital South, Joe DiMaggio Children's Hospital, Memorial Hospital West, Memorial Hospital Miramar, Memorial Hospital Pembroke and Memorial Manor nursing home. MHS has been recognized as one of Modern Healthcare magazine's "Best Places to Work in Healthcare," Florida Trend's "Florida's Best Companies to Work For," and Becker's Hospital Review's "150 Great Places to Work in Healthcare."