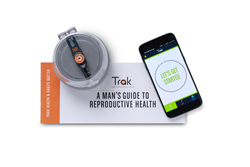 Livermore, CA (PRWEB) June 08, 2017
Sandstone Diagnostics, a consumer health company providing tools and educational services that empower men to test and improve their reproductive health, proudly announces programs and sponsorships supporting Men's Health Week 2017 – celebrated annually the week leading up to Father's Day.
Sandstone will host "Trak Live" Facebook events, in which top urologists in male reproductive medicine will participate in interactive Q&A dialogues on various topics including "Sperm Health and Fertility – What You Need to Know." Trak Live events are currently scheduled for Monday, June 12 at 12:30pm EST with Dr. Michael Eisenberg (Director of Male Reproductive Medicine and Surgery Stanford University Medical Center) and Wednesday, June 14 at 2:30pm EST with Dr. Jamin Brahmbhatt (co-Director of The PUR Clinic) and can be viewed via the Trak Fertility Facebook page: https://www.facebook.com/TrakHQ.
In addition, company Co-Founder and Men's Health Advocate Sara Naab and Fertility Coach Kristen Darcy will co-host the 4th annual Making Dads Fertility Virtual Summit – a week-long series of online interviews with leading male fertility experts including physicians, patients, and authors running June 12-16. For more information visit http://www.kristendarcy.com/making-dads-summit-2017.
Lastly, Sandstone is proud to sponsor the 4th annual Drive For Men's Health – a cross-country journey intended to build awareness around men's health issues and encourage men to make their health a priority. Urologists Jamin Brahmbhatt, M.D., and Sijo Parekattil, M.D., co-directors of The PUR (Personalized Urology & Robotics) Clinic at South Lake Hospital, in affiliation with Orlando Health, will drive a Tesla Model S 3,500 miles from Florida to Utah, with planned events in New Orleans, Houston, and Los Angeles that feature local speakers and events raising awareness for men's health. Learn more and follow the doctors along their journey at http://www.driveformenshealth.com.
"We are very proud to participate in and sponsor these important outreach events," said Karen Drexler, Sandstone President and CEO. "Millions of men quietly struggle with fertility issues every year. Providing education and awareness alongside leading medical experts remains central to our mission to improve the way men think about and manage their reproductive health."
Earlier this year, Sandstone launched the Trak Male Fertility Testing System – an FDA-cleared, first-of-its-kind home testing device and mobile app that allows men to track their sperm count at home as they take personalized steps to try to improve their sperm production and boost a couple's chances of conception.
"Sandstone is such an inspiration to those of us passionate about improving men's access to healthcare, and we are thrilled to have their support on the Drive for Men's Health," said Dr. Brahmbhatt. "Trak is an innovative and important tool for any man interested in his reproductive health, not just those struggling with infertility, and I'm very proud to continue our partnership with the Sandstone team to help men take better care of their health and fertility."
About Sandstone Diagnostics
Sandstone Diagnostics is a Bay Area diagnostic and digital health company providing sophisticated home testing products that allow consumers to measure and improve key health markers at home. The company's first product, the Trak® Male Fertility System, is now available. For more information, please visit trakfertility.com