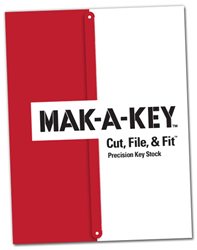 Minneapolis, Kansas (PRWEB) June 12, 2017
G.L. Huyett, an ISO certified manufacturer, master distributor, and importer of non-threaded fasteners, grease fittings, and engineered fasteners, has released another new catalog devoted to precision key stock – their second in less than a year.
Tim O'Keeffe, CEO of G.L. Huyett, explains, "The Key Stock Catalog we released in 2016 is a 188-page engineering-oriented resource book that includes a wide range of components for the power transmission industry. This 36-Page MAK-A-KEY™ Cut, File, & Fit™ catalog is specific to precision key stock. G.L. Huyett's customers can choose from inch or metric bar stock in many lengths and flavors.
"MAK-A-KEY was the first branded key stock intended as an aftermarket product," cites O'Keeffe. "While MAK-A-KEY is generally advertised as 'key stock,' it is actually oversize drawn bar stock which is quite rare and rarely specified in applications, however MAK-A-KEY is still commonly referenced by design engineers. We purchased MAK-A-KEY this past December and are now launching the brand internationally."
Digital Catalog
The MAK-A-KEY catalog is available in print and can be ordered from the company's website, Huyett.com, downloaded as a PDF, or viewed online in a new digital format.
"We're excited to be able to offer our customers a new way to research and transact through our new digital catalogs," the company's VP of Marketing, Greg Tabor, explains, "The new online format allows customers to flip through pages like a printed document. And, every part links directly to its corresponding page on our website to make it fast and easy to find parts, get additional information and pricing, see stock quantities on hand, and make confident buying decisions."
Visit http://gl-huyett.dcatalog.com/v/MAK-A-KEY-Catalog/ today to give it a try.
With this new catalog release, there is another new enhancement to G.L. Huyett's catalogs and website that is sure to be a welcome benefit for customers and visitors: Free Material Certifications and Certificates of Compliance.
"G.L. Huyett has attempted to take the hassle and cost out of obtaining and managing Material and Compliance Certifications by making them available for download in our customer's order history," explains Tabor. "For years we responded to requests for certs by processing them as they came to us which often meant waiting hours or days to get information from our suppliers before sending it to customers."
"We've worked very hard in the past year to automate and simplify this process by acquiring certs for nearly every part we sell and have made them available to our customers for download free of charge where possible. There are a handful of exclusions as we have not been able to acquire certs from a few of our suppliers, but for most of our inventory, we have both Material Certifications and Compliance Certs to the lot level," explains Tabor.
Visit https://www.huyett.com/promotions/certs/ to learn about the different types of certs available and how to acquire them through G.L. Huyett's website.
To request or download a copy of G.L. Huyett's MAK-A-KEY Cut, File, & Fit Precision Key Stock catalog visit huyett.com/catalogs or call 785-392-3017.
About G.L. Huyett
Established in 1906 by Guy Huyett in the "other Minneapolis," the company is one of the oldest continuously operating businesses in Kansas. Founded on the production and distribution of machinery bushings, in the 1990s, entrepreneurial owners Tim and Carol O'Keeffe recognized huge potential in offering low order minimums, fast shipping, and expanding product offerings to a complete inventory of power transmission components including MAK-A-KEY™ and MAK-A-PIN™ precision key stock, pins, retaining rings, grease fittings and accessories, engineered fasteners, bushings, washers, assortments, and tools.