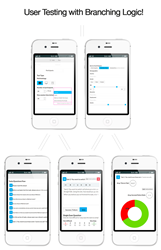 "This innovation combines the scalability of online user testing with the personalized probing of in-person usability testing."
AUSTIN, TEXAS (PRWEB) June 15, 2017
Userlytics Corporation has announced the launch of the 1st video based user experience testing platform that allows unlimited scalability combined with individual participant personalization.
Leveraging branching logic, the new capability allows sophisticated customization of online user experience test scripts combined with a highly scalable online user research process.
According to Alejandro Rivas-Micoud, CEO of Userlytics: "The C-Suite has now recognized the crucial impact user experience has on market share and profitability. Enabling a scalable online user research program that does not sacrifice the personalized approach of moderated usability testing is essential.
This innovation combines the scalability of online user testing with the personalized probing of in-person usability testing."
User experience professionals, product managers, designers, and marketers need to know not just what happened, but why it happened. And how users will react to new launches. An agile user experience testing process that is online & scalable yet maintains the personalized probing of in-person moderated usability testing is a crucial ingredient for their user experience toolkit.
About Userlytics Corporation: Headquartered in Austin, Texas with offices in Madrid & London, Userlytics is a global leader in innovative user experience research platforms. Analytics delivers what, Userlytics reveals why & how.