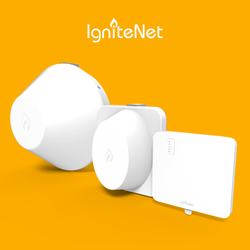 Both MetroLinq 2.5G and Spark AC Wave2 will open up significant new opportunities for our customers in existing and new markets
(PRWEB) June 08, 2017
IgniteNet, today, announces the availability of 2 new products: MetroLinq 2.5G and Spark AC Wave 2. MetroLinq 2.5G opens up new opportunities for operators in the unlicensed 60 GHz millimetre that want to deploy low-cost, multi-gigabit connectivity for backhaul and internet connectivity for their subscribers. Spark Wave 2 is the first product from IgniteNet's Wi-Fi portfolio supporting the 802.11ac wave2 standard, which was designed with the customer in mind in terms of usability and cost. It is one of the most cost-effective 802.11ac wave2 enterprise access points available on the market today.
The MetroLinq 2.5G is powered by a next-generation quad-core CPU that supports higher modulation, allowing delivery of more than twice the capacity (up to 4.6 Gbps OTA rate) compared to the first-generation platform. Similar to its predecessor, it comes loaded with a feature-full operating system essential for building point-to-point links. The devices can also be managed individually or via IgniteNet's ultra-low-cost cloud controller. The new MetroLinq 2.5G products can easily reach up to 1.6 km (1 mi) distances, and at some low rain rate regions, can even reach up to 2.5 km (1.55 mi) or more. The MetroLinq 2.5G also included a built-in 5GHz radio that can be used as a backup for higher rainfall regions.
Customers can choose from 2 innovative mounting bracket options when ordering: the precision mounting bracket for long-range links that are more difficult to align and need higher wind-load or the standard mounting bracket for installations requiring large vertical and horizontal angles or for easy wall mounting. To simplify the installation process IgniteNet has recently introduced the LinqAssist application which allows connecting to the unit with a mobile device via Bluetooth dongle. Together with the alignment scope, it reduces the setup and configuration time when deploying millimetre wave technology based networks.
Spark Wave 2 is a new member of Wi-Fi product family introducing 802.11ac wave2 benefits for IgniteNet customers for <$100 USD, making it the most cost-effective enterprise AP on the market supporting the wave2 standard. The dual-band, dual-radio device can reach speeds of up to 1.3 Gigabits (maximum data-rate) and has support for Multi-user MIMO increasing the overall performance of the access point and allowing for a more efficient operation. The IgniteNet cloud controller is available for remote configuration and management of wireless networks and the all new add-ons marketplace brings immediate new revenue streams for service providers (for example content filtering, guest Wi-Fi service, and many more). The Spark AC Wave 2 also features an innovative indoor/outdoor design in a single model – greatly reducing installation complexity and cost.
"We are excited to expand our range of products and offer even more value. Both MetroLinq 2.5G and Spark AC Wave 2 will open up significant new opportunities for our customers in existing and new markets," said Harold Bledsoe, President of IgniteNet.
About IgniteNet
Headquartered in Irvine, CA, IgniteNet is a wholly owned subsidiary of SMC Networks, Inc. IgniteNet has a proven track record of producing powerful, reliable, easy to deploy, and innovative cloud managed wireless solutions and the industry's lowest cost 60 GHz wireless technology through channel partners worldwide, focusing on Enterprises and Service Providers. For more information, please visit http://www.ignitenet.com.