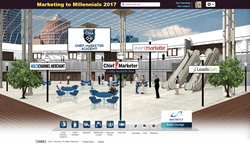 "Creating a centralized Chief Marketer Academy hub across four brands allows our four communities to access highly specialized content online within their specific industry verticals."
PLEASANTON, CA (PRWEB) June 08, 2017
Leading b-to-b media, event and information company Access Intelligence and virtual event provider 6Connex have announced a new Chief Marketer Academy digital education and training environment to debut this month.
The initiative represents the largest digital resource initiative of its kind. Beginning June 20, the state-of-the-art Chief Marketer Academy virtual training platform will begin rolling out digital conferences and seminars to more than one million marketers and retailers across four industry-leading Access Intelligence brands: Chief Marketer (serving the world's top brand marketers and CMOs), Event Marketer (serving Fortune 1000 event and experiential marketers), MultiChannel Merchant (serving omnichannel retailers) and LeadsCon (serving performance marketers).
"Nothing of this size and scope has ever been attempted," says Cory Smith, group business director of the MultiChannel Merchant and Leadscon brands at Access Intelligence. "Creating a centralized Chief Marketer Academy hub across four brands allows our four communities to access highly specialized content online within their specific industry verticals."
To execute such a large initiative, Access Intelligence turned to 6Connex, the industry leader in virtual events and environments. "The 6Connex virtual environment platform offers innovative features and complete flexibility," says Jeff Fortmann, business director of the Chief Marketer and Event Marketer brands at Access Intelligence. "Our partnership with 6Connex gives us confidence in the long-term success and value of the Chief Marketer Academy."
The environment was designed as a centralized digital "campus," with individual educational areas for each of the four Access Intelligence brands. Each brand's virtual area has an auditorium for sessions, a networking lounge for real-time conversations, sponsor rooms for partners, and a resource center packed with articles and case studies. Marketers can attend and participate in live event days with scheduled webcast sessions or they can browse content at their leisure, all from the comfort of their office or home, from any device.
The Chief Marketer Academy will start rolling out online seminars and conferences this month, beginning June 20 with Marketing to Millennials 2017, a digital conference for marketers and retailers featuring brand marketers, Millennial gurus and industry experts as speakers; learn more or register here.
"We love when clients think big, and the Chief Marketer Academy is an extra-large initiative that leverages the deep capabilities of the 6Connex product and team," says Lisa Farrell, Chief Revenue Office at 6Connex. "As both a marketer and an Access Intelligence business partner, I could not be more excited about this project."
To learn more about the 6Connex Virtual Destinations platform, please visit http://www.6connex.com/.
ABOUT ACCESS INTELLIGENCE
Access Intelligence, a portfolio company of Veronis Suhler Stevenson, is a b-to-b media, event and information company serving the media, PR, cable, healthcare management, defense, chemical engineering, satellite and aviation markets. Leading brands include PR News, AdMonsters, Cynopsis, Cablefax, Folio:, Event Marketer, LeadsCon, Chief Marketer, MultiChannel Merchant, Media Industry Newsletter, Defense Daily Network, Aviation Today, Studio Daily, Power, Via Satellite and Exchange Monitor. Market-leading events include LeadsCon, AdMonsters Operations and Publisher Summits, Folio: Show, Experiential Marketing Summit, EventTech, SATELLITE 2018, OR Manager, LDC Gas Forums, Clean Gulf, ELECTRIC POWER and Western Power Summit. Learn more at accessintel.com.
ABOUT 6CONNEX
6Connex powers virtual events and environments for career fairs, employee onboarding, user conferences, corporate universities and other applications. The 100-percent SaaS virtual destination platform is backed by a team of passionate virtual event experts, dedicated to both market innovation and customer success. More than 100 organizations rely on 6Connex, including Intuit, GE, Economist, Salesforce, Hootsuite, Ericsson, CDC, the Association of American Medical Schools, and the University of Alberta. 6Connex is based in Pleasanton, CA, with offices in London and Shanghai.