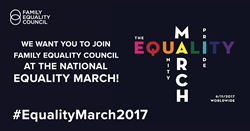 Washington, D.C. (PRWEB) June 08, 2017
Family Equality Council is proud to partner with the organizers of the National Equality March for Unity and Pride, representing lesbian, gay, bisexual, transgender, and queer families at what will be a significant display of LGBTQ movement solidarity and visibility in our nation's capital. The march takes place in Washington, D.C. on Sunday June 11, and is accompanied by over 60 sister marches taking place in communities across the country.
The march organizers, co-chairs, and partners – including Family Equality Council – are united in our intention to bring members of the LGBTQ community and their allies together to stand up and speak out against efforts to discriminate against LGBTQ individuals and their families.
"Over the past six months, it has become apparent that despite campaign promises to the contrary, the Trump administration is no ally to the LGBTQ community," said Chief Policy Officer, Denise Brogan-Kator. "We remain hopeful that the administration will change course, but we feel compelled to respond with a strong, grassroots presence in D.C. to the steady stream of administration appointees with virulently anti-LGBTQ beliefs, and the continued roll-back of LGBTQ protections gained over the past decade."
"While much progress has been made by the LGBTQ community, we are now seeing new threats to those hard-fought advances pop up every day, especially at the state level," said Chief Program Officer, Brent Wright. "The Equality March this weekend is an important and symbolic opportunity for the LGBTQ parents of today and those who come next to stand and be counted, and to remind our elected officials that they represent the right of ALL Americans to 'life, liberty and the pursuit of happiness.'"
To learn more about marching with Family Equality Council on June 11 in Washington D.C., visit http://www.familyequality.org/equality-march. If you can't join us in D.C., sister marches are planned in over 60 communities across the country, and we will be broadcasting live on social media during the march.
About Family Equality Council
Family Equality Council connects, supports, and represents the three million parents who are lesbian, gay, bisexual, transgender, and queer in this country today and their six million children of all ages. We are changing attitudes and policies to ensure that all families are respected, loved, and celebrated—including families with parents who are LGBTQ. We are a community of parents, children, grandparents, grandchildren and unattached youth that reaches across this country. For almost forty years we have raised our children and raised our voices toward fairness for all families. As we look to the next chapter of our work, we are also focused on LGBTQ youth needing families and the two million LGBTQ adults waiting to foster or adopt in our country. To learn more, visit http://www.familyequality.org
# # #