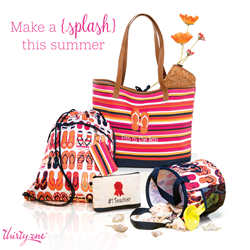 Columbus, Ohio (PRWEB) June 08, 2017
Thirty-One Gifts today announced it has been named by the Direct Selling Association (DSA) to the 2017 DSA Top 20, a prestigious honor bestowed annually on the largest direct-selling companies in the United States by domestic net sales.
"Thirty-One Gifts truly is a leader in our industry, and I applaud you both for the opportunities you offer thousands of Americans and for the significant contributions you make to the economy," said DSA President Joseph N. Mariano. "Sales don't just happen, they are earned through the devotion companies like Thirty-One show day in and day out to their customers and salespeople by virtue of their membership in DSA. You have set an example our entire business model should be proud to follow."
The DSA Top 20 award was presented to Thirty-One Gifts Founder, President and CEO Cindy Monroe at a reception June 6 in Orlando, Florida. The award is for DSA members only and is based on the previous year's sales.
Thirty-One Gifts was named the 23rd-largest direct-selling company in the U.S. and 38th-largest in the world by Direct Selling News in 2016. They are headquartered in Columbus, Ohio, and are the largest woman-owned business in central Ohio.
The company offers purses and wallets, totes, home organization solutions and décor, thermal bags, jewelry and more, sold by more than 72,000 independent sales consultants throughout the U.S. and Canada at home parties and online.
The DSA says the success of the top 20 is testament to the vitality of the direct-selling business model. DSA also released topline figures from its 2017 Growth & Outlook report prior to naming the 2017 DSA Top 20 member companies. A record 20.5 million people were involved in direct selling in the United States in 2016, a 1.5% increase from the previous year. Estimated direct retail sales of $35.54 billion in 2016 is the second highest in direct-selling history. More information in an infographic can be found here.
About the Direct Selling Association
The Direct Selling Association (DSA) is the national trade association for companies that offer entrepreneurial opportunities to independent sellers to market and sell products and services, typically outside of a fixed retail establishment. For more information, visit http://www.dsa.org.
About Thirty-One Gifts
Thirty-One Gifts is a family of individuals who share a passion for empowering women, and who are committed to celebrating, encouraging and rewarding others for who they are. The name Thirty-One Gifts comes from Proverbs 31, of the Bible, which describes the attributes and the importance of a virtuous woman. With a mission to help women by giving them the opportunity to own their own businesses, Thirty-One provides all the tools and support necessary to find success and possibly build a new career. Cindy Monroe started Thirty-One in her basement in 2003. Giving back also is fundamental to Thirty-One. Through their philanthropic initiative, Thirty-One Gives, the company partners with nonprofit organizations that serve and support girls, women and families, and they donate about 5 percent of net sales to those organizations. To-date, Thirty-One has donated more than $100 million in product and cash to nonprofit organizations.
# # #